Net Atlantic Quarterly - Fall 2009
---
This season, all of us at Net Atlantic are grateful for your readership, and for your feedback and ideas. As the landscape of email evolves, one important trend is the move toward reader engagement. Even with social media now making inroads to B2C and B2B companies, email is the cornerstone of a strategy we call Engagement Marketing.
With Engagement Marketing, your customers are able to communicate back to you, and are never out of reach of your brand message. With our comprehensive suite of services, we can help you improve your communication to and with your subscribers, clients and prospects with product features such as automated emails, dynamic segmentation, triggered emails, surveys, behavioral targeting, open API, and ODBC integration.
Please find below various new service updates including:
Everything Net Atlantic does is geared toward providing you with the most powerful and versatile email marketing tools available. Don't just market to your customers. Engage them.
Thank you for reading,
- Andy Lutts, CEO, Net Atlantic, Inc.
---
Email Advisor
An Advanced Inbox Preview and Delivery Monitoring Tool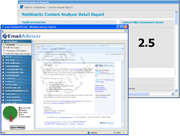 Email Advisor helps you deliver email messages to your subscribers, by making it quick and easy to ensure total legibility and inbox delivery.
With Email Advisor, you can:
Preview your email content in nearly 40 different email clients.
Analyze your content against 30 common SPAM filters.
Monitor more than 175 blacklists.
Find out how quickly more than 40 ISPs will send your email.
Email Advisor is unlimited, and you can add our entire Email Advisor package to your email marketing account for only $200 per month.
>> Learn More About Email Advisor
---
New Email Templates
Including Holiday Templates and Holiday Coupon Templates

Our holiday templates and holiday coupon templates help you turn shoppers into buyers. Our email marketing template collection is growing; we recently added over 65 new designs including 15 email coupons, and 10 Holiday Templates.
Research Article Case Study:
Want to improve your click-through rates by 70%? Go to BtoB Online to learn how Schneider Electric gets results with e-mail coupons.
>> See More Holiday Email Templates
---
Free Webinar:
Compliance and Best Practices with Gregg Hanson
Dec 8 at 1PM (EST)
A webinar to help you get the best delivery possible

Maximize delivery with your email newsletter messages. Email is probably your most common method used to connect with your customers, so it is important to send your customers email that is relevant, welcome, and follows standard compliance measures. That's why Net Atlantic offers one of the most complete and effective compliance programs available.
This December, attend our free one-hour webinar: Compliance & Best Practices with Gregg Hanson. Gregg will cover issues and strategies faced by all mailing list owners such as:
Improving your opt-in rates
Managing members past & present
Segmenting your list for better results
Using clearer and shorter content
Avoiding problem membership lists
And more…
strong>Free Compliance Webinar Details:
Date: Tuesday, December 8, 2009
Time: 1:00PM EST (1 Hour)
>> Join Our Free Compliance Webinar
---
Net Atlantic Reseller Edition
A unique support and marketing program for Agencies, Affiliates, Resellers, and Online Marketers

As a Net Atlantic Reseller, you resell email marketing solutions, either as a direct provider of email marketing solutions, or a part of a larger marketing package. We help you manage your customers' newsletter mailing lists and email campaigns using your company's brand. Our Partner Program is ideal for webmasters, advertising agencies, and marketing consulting firms. You can:
Reinforce your company profile with a fully-branded, white-label email marketing service.
Get lower pricing with our discounted pricing tiers.
Set your own pricing and bill your clients directly.
Add and remove mailing lists, list administrators, and subscribers at any time.
Create, send, and manage email for your customers or give them the ability to control their own email campaigns.
And more…
As a Reseller, Net Atlantic offers you:
HDI-certified technical support and compliance expertise
Friendly, easy-to-access customer service
Established sender relationships with major ISPs and proven track record of deliverability
Complete technical, pricing and marketing materials
Free Compliance Webinar Details:
Date: Tuesday, December 8, 2009
Time: 1:00PM EST (1 Hour)
>> Learn More About Reseller Solutions
---
New Net Atlantic Website
A unique support and marketing program for Agencies, Affiliates, Resellers, and Online Marketers

The new Net Atlantic website at www.netatlantic.com offers you a wealth of information, such as:
And there's a lot more to come! Visit the new Net Atlantic website and learn more about using email to support your Engagement Marketing strategy.
>> Visit The New Net Atlantic Website
---