Welcome to our Winter issue, for the clients and friends of Net Atlantic. We hope you find this newsletter informative and helpful in building your business online. Thank you for your interest! - the Net Atlantic Team

In this Issue:

1) Webinar: Making Email Newsletters Work
2) Client Profile: Funkiton!
3) Web 2.0 - What Does It Mean To You?
4) Web Browser Wars Rekindled
5) ODBC - Automatic Database Synchronization
6) Client Newsletters Worth A Look


----------------------------------------------------------------------

1) Free Webinar: Making Email Newsletters Work - Tuesday Dec 12th

Please join Net Atlantic and Exclusive Concepts for a jointly-held 30 minute webinar on Tuesday December 12th at 12:30 PM EST. The topic is Making Newsletters Work. The cost is free! We promise no big sales pitch, just great newsletter ideas.

Q. What should be in the subject line?
Q. Which kind of newsletter gets more clickthroughs, plain text or html?
Q. Where should your offer be in your email?
Q. Which ISPs block newsletter images by default, and what should you do about it?
Q. How is email to business different than email to consumers?

Description: Are you considering starting an email newsletter for your customers - or would you like some ideas to improve your newsletter's results? Then this is a must-attend webinar for every marketer interested in improving results in 2007. We'll provide real action-oriented suggestions for improving open rates and click-throughs. We'll share our collection of best practices in e-mail newsletter design and delivery.



----------------------------------------------------------------------

2) Client Profile - Funkitron!

Funkitron, Inc. is a game publishing company founded by game industry veteran Dave Walls in 2001. Funkitron is known for creating high-quality, fun games that appeal to a broad audience and can be distributed digitally via online networks. The company has had much success with hits such as "SCRABBLE® Deluxe", "SCRABBLE® Blast", "Poker Superstars IIT", "Boggle® Supreme" and the just released "Slingo® Quest"

Please note: we will not be held liable for lost hours playing the Funkitron games and the enjoyment from it!!! - the editor
----------------------------------------------------------------------
3) Web 2.0 - What Does It Mean to You?
Everyone throws around the term "Web 2.0," but what is it really?
Web 2.0 implies an information and computing platform rather than a content storehouse. Sometimes called the "New Internet," Web 2.0 promotes thin client computing, where everything is stored on servers (on the Web), and a user has access from any laptop or desktop computer via a Web browser. Client applications that do not require the browser can also be downloaded at any time from the Web.
The Social Phenomenon
Web 2.0 also implies a Web-centric source for all information and entertainment, including news, weather, stocks, reference, podcasts, videos and streaming media. Blogs, Wikis and online communities such as Friendster are also part of the second wave of the Web.
Web 2.0 also refers to technologies that allow data to become independent of the person who produced it or the site it originated on. It deals with how information can be broken up into units that flow freely from one site to another, often in ways the producer did not foresee or intend.
What Enabled Web 2.0?
Bandwidth and power. Faster in many cases than the T1 lines in the enterprise, cable and DSL hookups have given high-speed connections to small businesses and home offices. In addition, the entry level computer has gotten powerful enough to execute JavaScript and Java code in an HTML page without noticeable delays. The combination of increased bandwidth and local processing power, as well as increased server power and refinements in server applications, make the Web an extension of the user's computer just as if it were connected to the local network (LAN).
source: http://www.answers.com
----------------------------------------------------------------------
4) Web Browser Wars Rekindled - and the web surfer wins!
If you have not already, check out one of these new free web browsers. If you are using one now, be sure to upgrade to the latest version!

- Mozilla Firefox version 2.0 http://www.getfirefox.com
features: tabbed browsing, search suggestions (with drop down list), false URL (phishing) detection, live bookmarks, great themes, and pop-up blocker
- Opera version 9.0 http://www.opera.com
features: skins, trash can to recover accidentally closed tabs, zoom

expands/shrinks images, fast forward go forwards or backwards just by clicking the mouse button, open many favorite tabs at once, save browsing sessions
- Microsoft Internet Explorer version 7.0 http://www.microsoft.com
features: RSS feeds, improved printing, new look, better searching, more secure
----------------------------------------------------------------------
5) ODBC Feature - Automatic Database Synchronization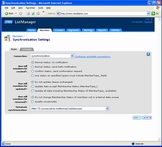 Net Atlantic's Lyris ListManager can now synchronize its data with other databases using ODBC (Open DataBase Connectivity). The service works great with Oracle, Microsoft SQL Server, PostgreSQL and MySQL. Other databases utilizing the ODBC standards will also work. You can synchronize with your in-house database over the internet according to a schedule, on demand, or just before sending a particular mailing.
How it works: A Database Connection is established, specifying the connection string and SQL query to be used to connect to your external database server at your location. Once the database connection has been created, you can specify how ListManager handles the data from the external data source (such as overwrite, or append, etc.), and with what frequency. You can also specify the default frequency for database synchronization.
Find out more: https://www.netatlantic.com/listmanager/index.html
----------------------------------------------------------------------
6) Client Newsletters Worth A Look!

As much as we would like to mention all of the fascinating customer email newsletters we host in this email, we can list a few that we enjoy here in the office. If you are so inclined, check them out, and subscribe!
Urban Word of the Day (we like the scrolling definition bar near the top of the home page)
Bruno Gidion's One Minute Email (thought provoking and inspirational)
Curezone (controversial, extremely popular user-contributed European alternative health site)
----------------------------------------------------------------------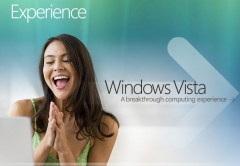 Did you know ... Approximately 50 percent of the average business PCs in North America are unable to meet the minimum requirements for Microsoft's new Windows Vista operating system, while 94 percent do not meet the system requirements for Vista Premium. read more ...
----------------------------------------------------------------------
Contact Us
Net Atlantic has been helping individuals, businesses and non-profit organizations succeed on the Internet for more than 11 years. We offer best-in-class Internet services including Email Newsletter Hosting, Tier 1 Web Hosting, Discussion Groups Hosting , and more. Contact sales@netatlantic.com to learn more.
You are receiving this newsletter because at one time you inquired about the services offered by Net Atlantic. This newsletter is published approximately four times a year. If you prefer to not receive email communications from Net Atlantic please unsubscribe.
Net Atlantic, Inc. - 10 Federal Street, Salem MA 01970 USA tel. 978-219-1900
Copyright 1995-2006

| | | | |
| --- | --- | --- | --- |
| Unsubscribe | Edit Profile | Refer a Friend | |