Net Atlantic Navigator
A Guided Wizard for StrongView On-Demand
StrongView On-Demand is the most powerful feature rich enterprise mail marketing solution available. It allows you to build and launch high-impact, professional email marketing campaigns.

Navigator's intuitive, streamlined email workflow wizard guides you through each step. It helps you to:
Create and edit HTML templates or choose from a library
Create and add recipients by upload or copy and paste
Choose target segments with simple drop-down selectors
Test and launch mailings or schedule for later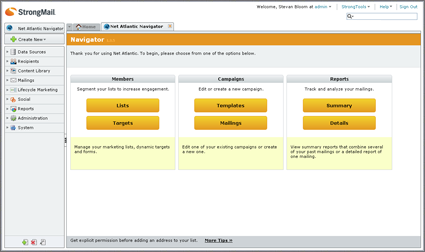 Click for Larger Image
Added Benefits of Net Atlantic Navigator
Navigator makes faster and easier than ever. Its feature-rich interface includes tips and instructions to help build high-impact email campaigns, a graphic HTML editor, a subject line grader, a target segment selector, and a mailing scheduler to give you total control of your message.
Navigator is perfect for:
Enterprises that support many autonomous locations
Small and medium-sized businesses with limited resources
Agencies that run numerous campaigns for clients
Resellers that manage and serve multiple accounts
Organizations that serve a distributed sales network
Net Atlantic brings the power of StrongView On-Demand to SMBs, helping them enhance transactional email marketing to improve customer engagement. Navigator is included with Net Atlantic's StrongView On-Demand Edition.