StrongView® Message Studio
Improve your email deliverability rates and results.
StrongView Message Studio is an enterprise-scale interactive marketing solution that enables marketers to cost-effectively implement sophisticated programs across email, mobile and social channels. With Message Studio, marketers can take control of their email programs and maximize results through improved delivery, personalization and management.
Message Studio's advanced integration capabilities enable marketers to connect directly to enterprise databases, web analytics and marketing automation systems to dynamically build, deliver and optimize highly personalized messages for better engagement and bottom-line results.
Key Features & Benefits
Lifecycle Marketing Automation. Design, proof, automate and continuously optimize multi-stage, cross-channel lifecycle marketing programs with an intuitive drag-and-drop user interface.
Right-time, Event-triggered Email. Expand beyond batch-and-blast campaigns by precisely targeting and triggering personalized messages on a cadence that is driven by subscriber profile and behavior.
Increased Relevance with Dynamic Personalization. Easily author and execute highly relevant messages that pull real-time subscriber data directly from various enterprise and partner systems.
Expanded Reach with Social Sharing. Improve campaign reach and overall performance with social sharing and referral marketing interactivity.
Rich Interactive Reporting. Monitor performance via a range of key performance indicator dashboards, interactive reports and detail drilldowns.
Maximum Deliverability. Improve deliverability with sophisticated sending technology, smart bounce management, automated alerts, proactive support and total control of your sending reputation and IP addresses.
Control, Flexibility and Scale. Achieve maximum performance and high levels of customization with a dedicated system that is free from the performance drawbacks of shared, multi-tenant ESP solutions.
Burst Email Delivery Technology. Deliver millions of personalized messages in minutes with StrongView's burst email delivery technology and dedicated infrastructure.
Cost Effective. The lowest total-cost-of-ownership of any tier-one email service provider allows you to focus marketing spend on high-value programs and initiatives rather than email delivery fees.
Net Atlantic Navigator, an intuitive, streamlined email workflow wizard for creating lists, targets, templates, and mailings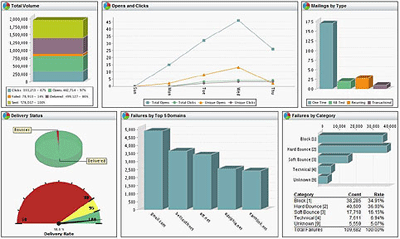 StrongView Message Studio Performance Dashboard
View Product Diagram
Learn More About Message Studio's Features & Benefits
For additional information about StrongView Message Studio, call us at (978) 219-1900.