Net Atlantic Quarterly - Summer 2010
---
Now that summer is here, and you're spending long days sitting by the pool listening to the ballgame by podcast, we at Net Atlantic would like to remind you that email marketing never stops. Summer is a perfect time to reevaluate your online marketing efforts.
With new capabilities like social media, dynamic content, mobile applications, and video hosting, email remains the core of total engagement marketing. You can connect more directly with your subscribers in more ways, raising relevance and response using powerful segmentation, automation, web analytics and tracking.
This newsletter will cover many ways Net Atlantic can help you engage your audience, including:
Net Atlantic supports your total engagement marketing strategy with the most powerful and versatile online tools available. Don't just market to your audience. Engage them.
Thank you for reading,
- Andy Lutts, CEO, Net Atlantic, Inc.
---
Use Social Media in Your Emails
Help your subscribers share your emails

Leverage the power of social media to extend the reach of your email marketing campaigns. Social media integration provides a way for your customers to share your email marketing content.
Our Social Media tool adds links to the most popular social media sites including Digg, Furl, Facebook, LinkedIn, and Google Bookmarks, Delicious, Reddit, Stumbleupon, and many others.
>> Learn More about Using Social Media
---
Changes to Windows Live Hotmail
How It Will Affect Email Delivery (and What You Can Do About It)

By now, you may have read about Microsoft's recent changes to its Windows Live Hotmail email. These changes will definitely affect the way you send email campaigns to Live and Hotmail users.
But don't panic! There are many ways to keep your emails reaching the inbox for your Hotmail users. In our newest article, we'll cover the changes and tell you what you can do about them.
>> Read More about Changes to Hotmail
---
View Our Recorded Webinars
We cover video email, list management and much more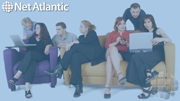 Our webinars run about 20 minutes and cover useful topics such as Video Emails, Total Engagement Marketing, Email Subscriber Management, and Email Marketing Best Practices.
You'll learn how to maximize engagement using our easy video insertion tool, make email the center of your marketing strategy, and optimize delivery using best list management practices.
>> View Our Recorded Webinars Now
---
See Our Training Demos
Our short demonstrations show you our advanced tools

Want to know more about automating email campaigns with Net Atlantic? How about A/B/n Split Testing? If our more advanced features seem daunting, our quick (3-5 minute) demos help you learn to use them.
Our training demos cover:
>> View Our Training Demos Now
---
---
Free White Paper
The 11 Most Successful Business Models Used in Email Marketing
Which business models can be most successful for your email newsletter? Net Atlantic has more than 10 years of email marketing experience, and we've put that into our latest white paper.
"The 11 Most Successful Business Models Used in Email Marketing" by CEO Andy Lutts, covers the top 11 methods used to generate revenue from email campaigns, including:
Paid subscription recurring revenue model
Advertiser-supported email newsletter model
Affiliate pay-for-performance revenue sharing model
Pay-per-access revenue generating model
Non-profit fundraising and advocacy model
Free content model to attract readers to your site
And many more…
>> Download The 11 Most Successful Business Models
---