Our Story
Our mission is to help our clients successfully share their message far and wide on the internet. To do this, we provide a dynamic combination of robust technology and personalized service and support. We'll be with you every step of the way to help you achieve your goals. You know marketing, we know email.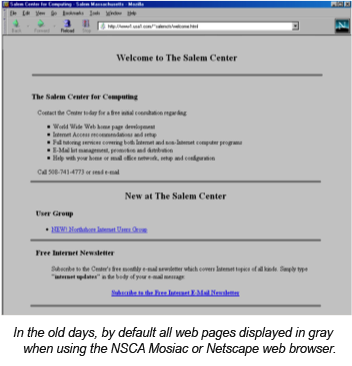 The Early Days
Net Atlantic was founded in 1995 by Andrew Lutts in historic Salem, Massachusetts. Andy had been working for several years in the investment advisory business for his brother, Rob. But he had dreams of becoming an entrepreneur, and when he could no longer ignore the call to strike out on his own, he left his brother's firm. He used his last paycheck to buy the best computer he could afford, and spent the next several weeks surfing the web on Prodigy Internet and teaching himself how to design and publish web pages. Within a few months, he launched The Salem Center for Computing from his living room.
Net Atlantic is a private company, and we make decisions on behalf of our customers, not ourselves. We don't have outside investors telling us what to do and insisting that we focus on maximizing their returns. We are totally customer-focused first, and work hard to develop and offer products and services that help our clients achieve their business goals.
Exciting Times - The Dawn of the Internet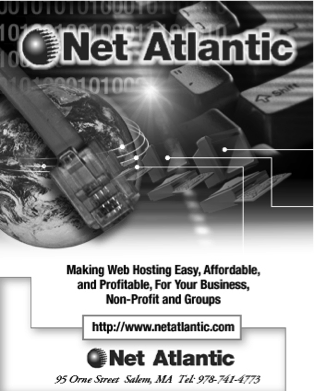 In those days, email marketing was barely a twinkle in the Internet's eye, so most of Andy's business was focused on creating and publishing web pages for his clients. Soon, Andy met Wes Owen, who was a friend of one of his client's sons. When Andy learned that Wes had built several computers on his own for himself and others, he offered Wes a job as the company's first intern. Wes started in 1996, while he was a sophomore in high school. Wes was with the company for a total of 23 years, and achieved the role of VP of Technology Operations.
In the early days, before Amazon and Google, Yahoo and especially Netscape Navigator were the darlings of the day. In fact, in 1995 Netscape Navigator had 90% market share. However, just nine years later in 2004, Microsoft had overtaken Netscape and captured 95% market share of the web browser market by bundling their Internet Explorer web browser with all other Microsoft products.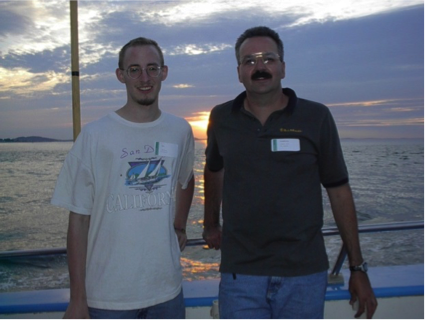 Discovering the Power of Email Marketing
Andy and Wes worked together to create web pages, host web sites, and help clients with shopping carts, ecommerce, and CGI forms and scripts. But things really started to get interesting when Andy created his own email list. He started distributing a newsletter focused on one of his passions, metaphysical and spiritual topics, and quickly grew his list to over 5,000 subscribers in about a year.
Andy was blown away by the huge and positive response he received just minutes after sending each monthly newsletter. Replies and feedback came from around the world, and he found the sharing and response from of his information remarkable. He came to understand, as many did, how this powerful medium would someday revolutionize the way we communicate, and that it would empower us to disseminate messages on a scale that had never been seen before.
Andy's personal experiences with his email newsletter inspired him to fully embrace this fast-growing medium, and before long, he began thinking about how it could benefit his clients.
Clients Catch the Email Wave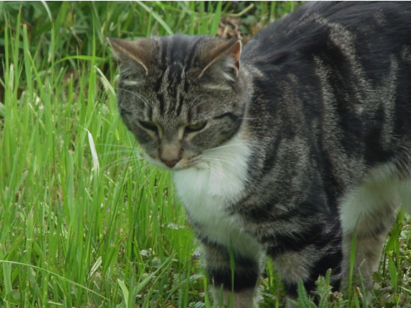 When a key client in the publishing industry asked Andy to help send their newsletters by email (to save money on postage), Net Atlantic began to offer full-service email marketing services.
In 1997, the company offered email services via a desktop program called Broadcast Email. This was a compact yet powerful software program that could deliver email as fast as a dial-up modem and ISDN could send it.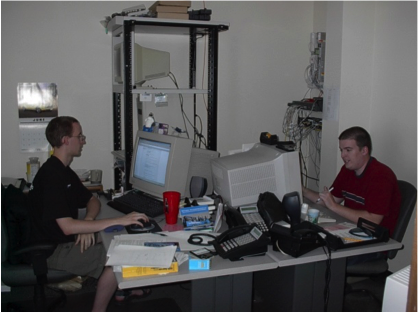 The team set up multiple instances of Broadcast Email on computers scattered around the living room. Each computer did just one thing: send client email. The software worked great, and the email went out quickly. Clients from all over wanted to send email, and the company responded.
After a while the company realized that the software was great at sending email, but not so great at handling bounces, retries, and unsubscribes. So later that year, they dramatically improved their offering by deploying a leading server-based email marketing software program called Lyris ListManager. In doing so, the company changed from sending mail from desktop computers to deploying email markeitng mail servers in data centers to deliver and manage email marketing campaigns in a superior way.
New Team Members and New Growth
Net Atlantic became one of the first ESPs at the time, and business was booming right out of the gate. Unfortunately, Andy's living room could no longer hold the company's growing staff. And although it was fun having meetings outside around the picnic table in Andy's back yard, with his cat in attendance, it was time for the team to find their first real office. The company relocated to their first office on Jefferson Avenue in Salem.
When R.J. Phipps joined the company in 2008, his technical expertise and dedication to excellent customer service helped the business grow exponentially. R.J., like Wes, has risen up through the ranks, growing his career along with the company. He is now Vice President of Product and Customer Success.
Lisa Kelly also joined the team in the early days and has contributed greatly to its successful growth.
All this expansion caused the team to outgrow their space yet again. They moved one more time, to Net Atlantic's current offices at 10 Federal Street in Salem.
As the company began to steadily bring in more and more new staff members, each one contributed their own unique skills and expertise to the organization. In 2013, the company's success led to Net Atlantic making the prestigious Inc. 5000 List of Fastest Growing Companies in America, and it continues to grow and evolve today.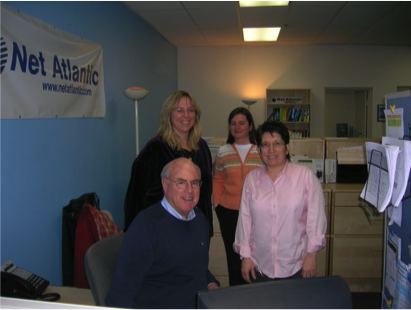 We Love Email
Long ago, it became obvious to Andy and the team that email was an incredibly powerful communications tool that would help businesses and organizations of all kinds efficiently and effectively distribute their messages.
Over 25+ years, the company has helped thousands of clients send over 100 billion email newsletters and messages to subscribers worldwide.
We love email, we love helping clients share their messages, and we love the idea of helping to make the world a better place through better communication.
The Golden Rule, Net Atlantic Style
We treat our customers the way we want to be treated ourselves, with kindness, professionalism and a friendly nature.
Don't be surprised if, during a support call, we ask you how the weather is where you are, or if your sports team is going to make it to the playoffs this year, or how business is going. We care!
And we believe that the better we get to know our customers, the better we can help them. That's how we work, and that's what we do.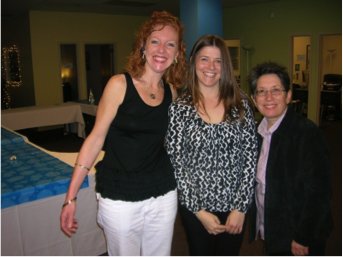 We Love Our Customers!
Our customers are the reason for our success, and we wouldn't be where we are today without them. It's because of this that we offer a full-time, 100% USA-based customer service and technical support teams. We want our customers to know that when we say we're there for them every step of the way, we mean it!
What We Stand For
We know that with any powerful tool comes a serious responsibility. Email is no different. We work hard to choose and work with clients who are aligned with our goal of providing positive, compelling and helpful information to their subscribers.
We work with clients of all kinds, from marketers to religious organizations, ad agencies to publishers, retailers, hobbyists and more. We've helped people work together to fight disease, and we've helped people raise money to help others. You name it, we've helped send it! But our overall reason for being is to help our clients communicate their message to others.
Looking Towards a Bright Future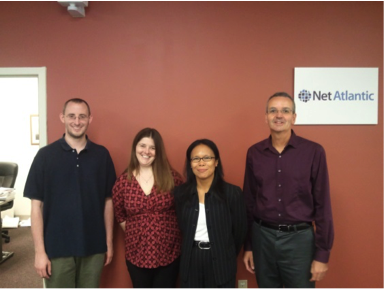 Our history as email marketing pioneers has created a forward-thinking culture at Net Atlantic that endures to this day. We're always on the lookout for emerging technologies, and new ways to further develop the capabilities of the email marketing medium.
Our company continues to evolve with time, technology, and the intention to provide our customers with the products, services, and support they need to grow their organizations and achieve their dreams.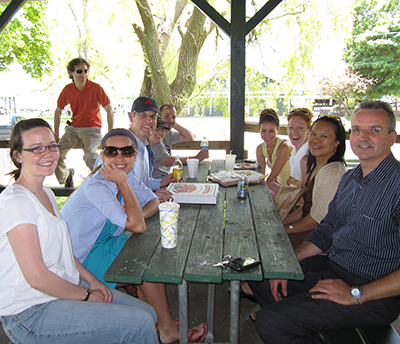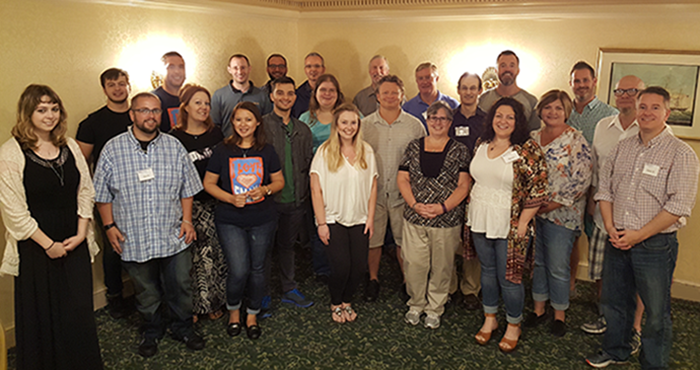 For more company history see our annual Screen Captures of our Web Site every year since 1995.
We invite you to become a part of the Net Atlantic community, or join our team. Give us a call at 978-219-1900 or info@netatlantic.com to learn more about our products and services!