Professional Edition
ListManager Email Campaign Sending Platform Features
The ListManager email marketing and campaign management tool delivers reliable scalability, A/B/n split testing, and powerful segmentation in order to help you monetize your email marketing efforts.
- Get fast and efficient email delivery, better inboxing, and higher engagement
- Benefit from our extremely intelligent, sophisticated email sending engine
- A proven platform that delivers and inboxes large amounts of email extremely well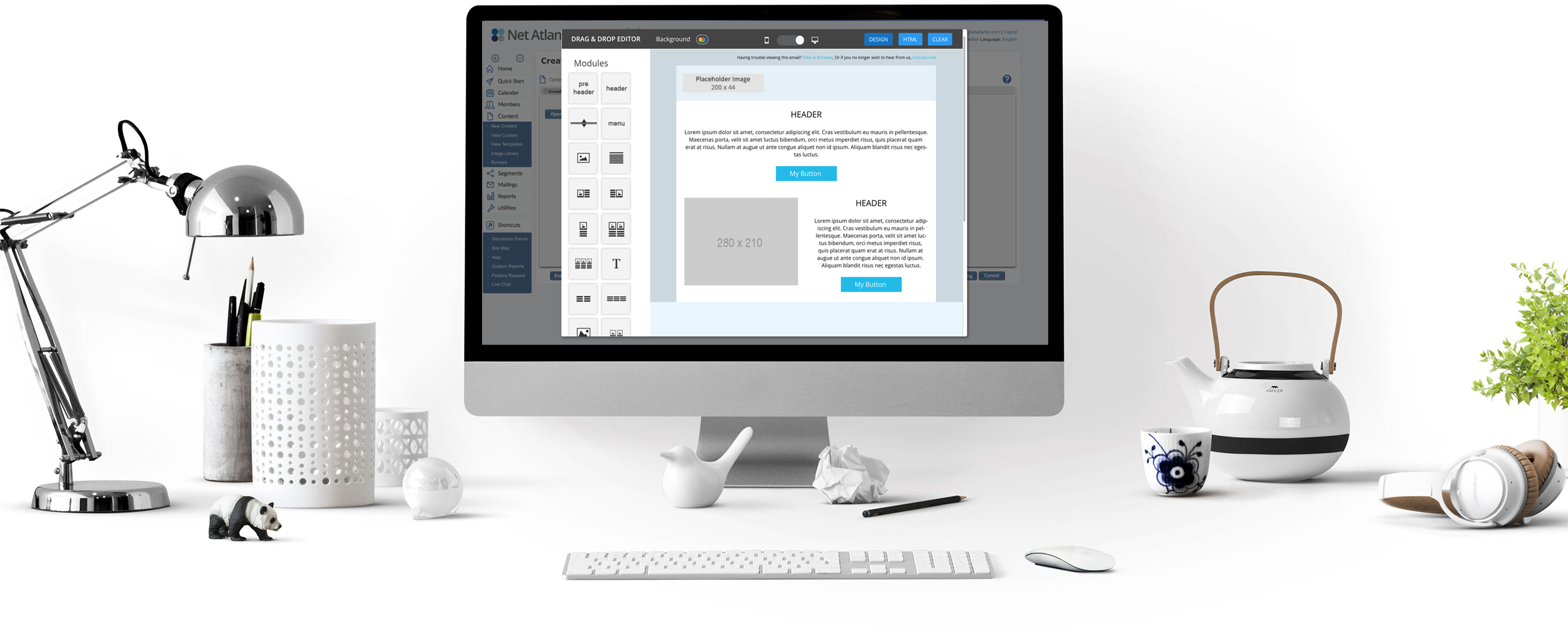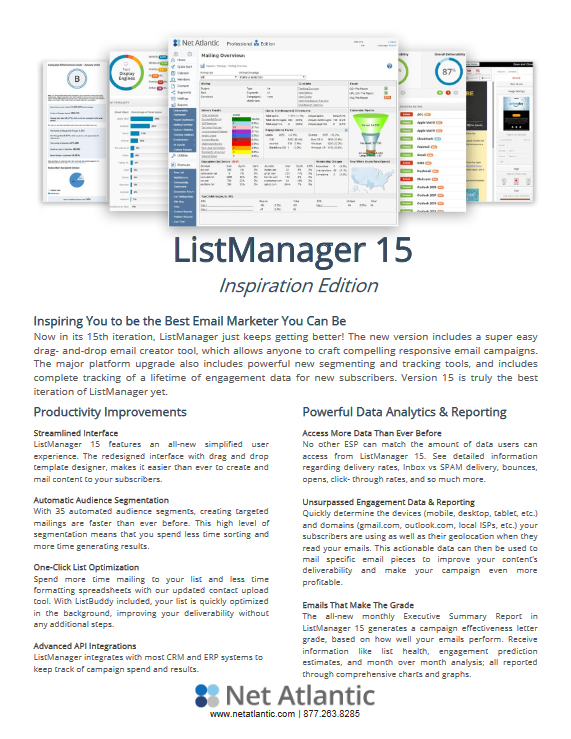 ListManager 15 PDF
Click here for a two-page
PDF Data Sheet Summary on ListManager 15
Net Atlantic's ListManager (formerly Lyris ListManager) is the email marketing platform that powers some of the world's largest businesses and organizations who need a proven, highly capable email marketing solution. Now at Version 15, Net Atlantic ListManager Inspiration Edition rises above the crowd with its suite of capabilities designed for the most demanding email marketer. You can drive higher conversion and more revenue with ListManager. The solution delivers a suite of digital marketing capabilities designed to help you maximize campaign ROI. Now you can deliver precisely targeted messages to your subscribers and generate higher levels of engagement and response.
New Improvements and Updates to Explore

Productivity Improvements - with a new streamlined interface, the email marketing platform boasts a new easy to use drag and drop template designer which makes responsive email templates very easy to use. Also included are Automatic Audience Segmentation, and One-click list optimization and import with List Buddy
Data Analytics and Reporting - include very high levels of detail on delivery of your email, deep engagement statistics, and letter grades assigned to your email campaigns to help you easily evaluate your performance.
Dynamic Design Tools - new responsive email designer and responsive email templates help you create attractive and highly effective email campaigns which render properly on all devices.
Lifetime Engagement History - includes complete tracking of a lifetime of engagement data for new email addresses added to your subscriber list. This helps you be a smarter marketer as you segment and target various levels of engaged subscribers.
Data Query Tools - allow the list administrator to target and send to specific segments of their subscriber list. For example, the email list administrator can now easily send to just highly engaged subscribers that have opened and read email in the last three months. The upgrades allow queries on last email opened, last email clicked on, total number of messages received, and more.
Advanced Security - The latest TLS (Transport Layer Security) deployment, advanced encryption, and SSL connections keep your data secure.