Net Atlantic Quarterly - Winter 2011
---
Message from the CEO:
As the New Year is fast approaching, it can be a great time to review your 2011 strategy, figure out what worked and what didn't, and develop your plan for a highly successful 2012.
Over the years, we've seen clients get great results when they've deployed email campaigns in the early parts of a new year, and there's no reason to believe that this time around will be any different. The new year is an ideal time for new beginnings, new initiatives, new ideas, and new thinking. Take some time today to outline what you are going to accomplish in the coming year. Don't wait for January... start making plans now so you can hit the ground running in 2012.
In this issue you will find valuable insight on how to grow your email subscriber list, engage your customers and take advantage of free marketing resources. Let us know if there is anything further we can do for you to help you with your online messaging campaigns to help make your 2012 a great year for you.
Best regards,
Andrew Lutts, CEO
Net Atlantic, Inc.
---
Table of Contents
---
Exciting Product Updates
You may not know this but we're much more than an Email Service Provider (ESP). We offer integrated video hosting for interactive emails, CRM integration, marketing and design services, and deep-dive training to leverage all the cool features in your products.
Over the last year, Net Atlantic has been busy upgrading many areas of our delivery infrastructure including expanding our datacenters, cloud services, and product offerings to help our customers utilize the great features and services mentioned above.
Some of these updates include:
Sophisticated and interactive reporting capabilities to enable visibility into who is reading your emails, on what device, and what results in successful click-through campaigns.
A new user-interface (Navigator UI) that brings the power of an enterprise application to anyone thus allowing users to quickly send sophisticated and dynamic content.
A forms generator that allows customers to easily create subscriber and unsubscribe fields for their websites.
Email automation tools including a Lifecycle designer to enable customers to send relevant content to the appropriate targets at the right time…automatically!
While some of these updates are included with your service, you should contact your account representative for details.
As we enter 2012, Net Atlantic is focusing on helping our customers solve their key marketing challenges: customer acquisition, engagement, loyalty, and marketing automation. Stay tuned for a very exciting year ahead and thank you for partnering with us.
---
Grow Your Subscriber List
In a recent survey, we asked our clients what email marketing challenges they were facing. Almost 30% of the respondents said that they were having trouble increasing their subscriber list, as well as their social media followers. We realize the importance of growing these lists and have listed five ways to do so:
Offer a promotion for subscribers. Almost all customers love promotions. For 15% off or a chance to win a $20 gift card, it's a great way to get customers and potential customers engaged and interested in your newsletter.
Encourage current subscribers to share your newsletter with friends. We all know that the best marketing method is through word-of-mouth. Support customers in forwarding your email message to friends and family. This is a great way to gain new customers and subscribers from your current customer relationships.
Advertise your email list in your advertisements. By simply putting a little phrase, such as "Join Our E-Mail List" or "Stay in Touch With Us" you let customers know that your business has an email newsletter.
Put an address book near your cash register. If you have a store front, this is a great way to encourage customers to subscribe to your list. If they are interested in your products and services, then they will probably enjoy hearing about your upcoming promotions or events.
Send a post on your social media account to remind followers to subscribe to your newsletter (this can work both ways). Why not use one marketing method to grow another? If you are looking to increase your number of social media followers and have a large subscriber list, mention is your next newsletter that you have a social media account and that there are benefits to joining that as well. If you find that you have the opposite situation, send a post to followers encouraging them to join your newsletter.
For more ideas on growing your subscriber list, see the Net Atlantic White Paper: "Top 11 Proven Ways To Grow Your Email Marketing List".
---
Grow Your Business by Getting to Know Your Customers

What matters most to your customers?
If you want to know how to increase your business, just ask your customers. Asking for customer feedback is one of the most important elements of doing business. Developing lasting customer relationships and customer loyalty requires an understanding of their needs and the reasons behind their buying decisions.
Survey your customers and ask them what they expect from you, what features of your product or service they most enjoy, what they think about your customer service, and what you could improve.
Listen to your customers, discover their pain points, and bring innovative solutions to market to address their issues and challenges. Paying attention to what your customers are saying can give you better insights to what matters most to them and gives you multiple ways to engage with them and build stronger relationships.
Customer surveys help your organization:
Discover new product and service ideas
Learn what keeps your customers loyal
Understand customer needs and challenges
Gain insight into customer service care
Keep a competitive edge with your market
Gather demographic information within your customer survey to help segment your data during the analysis. You can easily collect gender, age, zip code or state information, for example, so you can see if only females within a certain area of Massachusetts between the ages of 35-45 are happiest with your product.
Once you've segmented your list, you can stay relevant with your customers via ongoing communications that involve them with your brand. When you know customers more intimately, you can craft your messages around products and services throughout the life cycle that address their needs and interests and maximize the lifetime value of each customer.
If you need help using the survey feature of your email mailing list, please email support@netatlantic.com or call us at 978-219-1930.
---
Free Marketing Resources
At Net Atlantic, we love to inform customers of free marketing tools that we come across. In this economy, what is better than free? Here is a list of free magazines, courses and events that we recommend.
Free Marketing Magazines


These magazines provide essential information from marketing's leading experts.
Free Lectures
These websites offer free videos of lectures on a wide range of topics, including science, technology and business. We strongly recommend watching any of these thought-provoking videos.
Free Courses and Certifications
These programs offer in-depth college-level training for no cost. These offer a great way to refresh your marketing skills and learn modern methods in marketing.
Free Marketing Associations
These associations present free webinars, news, updates, training, discounts and offers for marketers.
Free eBooks
These eBooks offer fundamental insight from top professionals in the marketing industry.
We would like to thank Maria Pergolino for many of these great ideas. To read her original article click here.
---
The Myths of Social Marketing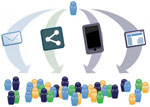 Are your campaigns reaching the intended audiences? To maximize the power of email — as well as emerging channels such as social and mobile — you have to think about how these channels fit into your overall marketing strategy and objectives. What channels are best suited to build your brand, help deepen customer relationships, or reach your target market?
Email marketing is an essential part of any successful marketing mix. Large enterprises, as well as small-to-medium sized businesses, use email marketing to engage their target audience by providing compelling and relevant content. The latest email marketing technology allows you to deepen customer relationships, turn leads into sales opportunities, and move them forward in the buying process.
According to the Direct Marketers Association, as of May, 2011, email marketing had an average return on investment of $43.52 for every dollar spent. This is expected to reach $44.25 by the end of 2011. Email marketing continues to thrive as a valuable means for businesses, both large and small, to communicate with prospects and customers; and, as the impressive email ROI numbers from DMA clearly suggest, email continues to drive significant revenue for businesses.
However, in today's increasingly growing networked economy, reaching targeted audiences requires that you interact with them via multiple customer-facing channels. Two of the biggest marketing trends is the integration of email marketing with social media and making email campaigns mobile.
It is predicted that in 2012, 66% of US internet users will use social networks on a regular basis, amounting to nearly 158 million people. Email marketing is complementary to social media and, in today's multichannel environment, you can raise awareness of your brand and extend the reach of your online and email marketing efforts by incorporating social media into your overall marketing plan. Social media integration provides a way for your customers to share your email marketing content by posting it on the most popular social media sites like Facebook and Twitter.
Additionally, the growing trend in mobile usage, specifically, is an important technology channel to be aware of. Increasingly, mobile-friendly social networks now go wherever their users go. How does mobile marketing fit into your overall marketing strategy? Businesses that effectively integrate mobile into their marketing mix will benefit from deeper interaction with prospects and customers, build richer data sets, and diversify revenue streams. I recently completed a new white paper titled 7 Email Marketing Trends You Cannot Ignore. This white paper delves into seven trends that will help marketers generate actionable results for their companies using email, including raising engagement, making your content matter, motivating your subscribers to respond, automating your strategy, integrating social, targeting the powerful, and embracing mobile.
Thanks to technology, there are an almost endless number of customer-facing channels available for you to reach your audience. The right mix will help you reach new audiences in the exact way they choose to communicate…where they live, work, and play.
As you plan for 2012, use the 7 email marketing trends to guide your marketing initiatives. The power of automated email, rise of mobile, and the success of social networking sites like Facebook will all play a role.
---