Press Releases
2023 | 2022 | 2021 | 2020 | 2019 | 2018 | 2017 | 2016 | 2015 | 2014 | 2013 | 2012 | 2011 | 2010 | 2009 | 2008 | 2007 | 2006 | 2005 | 2004 | 2003
Net Atlantic Announces Innovative New Snooze Feature
Salem, MA – November 13, 2013 - Net Atlantic today announced its introduction of an innovative new Snooze feature for email marketing.
Net Atlantic knows how valuable subscribers are to the success of their clients. Net Atlantic's new Snooze feature helps their email marketing clients retain more of their valuable subscribers, while at the same time giving subscribers control over their email subscriptions.
You Snooze, You Win!
When an email newsletter subscriber clicks to unsubscribe from a newsletter, the new Snooze feature kicks in and offers the subscriber the option to Snooze or pause their mailings for a specific period of time. Snooze options are: 1 week, 2 weeks, 1 month, 2 months, or 3 months. The subscriber will not receive any messages from that sender during this pause period. Once the Snooze period has elapsed, the subscriber automatically begins receiving email again normally.
"We are seeing very positive data results from early testing in terms of retaining subscribers," cited R.J. Phipps, Enterprise Data Architect. "No one likes losing subscribers," he continued, "Snooze can help retain valuable subscribers, depending on things like a client's mailing frequency and any fatigue a subscriber may be experiencing."
"We also feel that Snooze has the potential to help our clients create more subscriber engagement," added Andrew Lutts, company Founder & CEO. "When people come off of Snooze and start getting messages again, it's almost like getting a new engaged subscriber, as they see your emails as new again. Subscriber engagement is becoming more and more important every day, as ISPs place an increasing emphasis on how subscribers engage (open, read and click on links) with the email they receive."
The service is included with all new Professional and Enterprise level email mailing list hosting.
See Net Atlantic's Snooze screen capture below.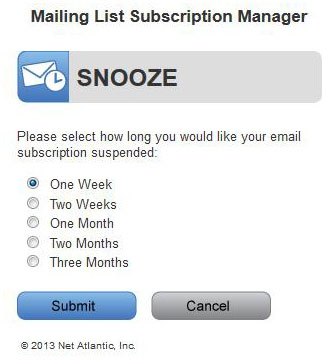 About Net Atlantic:
Net Atlantic is an industry leader in email marketing. Since 1995, Net Atlantic, Inc. has been assisting organizations of all sizes communicate effectively online. As an Email Service Provider (ESP) Net Atlantic offers clients the most feature-rich email marketing solutions at a cost-effective price. With unparalleled email marketing capabilities, expert deliverability management and responsive technical support, Net Atlantic's solutions provide you the ability to create, send, track and manage your email marketing campaigns successfully. To learn more about Net Atlantic's email marketing solutions, please visit www.netatlantic.com.
Copyright © 2013 Net Atlantic, Inc.
Contact:
Net Atlantic, Inc.
978-219-1900
marketing@netatlantic.com
WE'RE HERE FOR YOU
Book A Call With One of Our Experts
Fill out this form and one of our email specialists will contact you about how we can help you
achieve even greater engagement by switching to Net Atlantic for email marketing services.