Press Releases
2018 | 2017 | 2016 | 2015 | 2014 | 2013 | 2012 | 2011 | 2010 | 2009 | 2008 | 2007 | 2006 | 2005 | 2004 | 2003
Net Atlantic Welcomes This Year's Students to its Successful Internship Program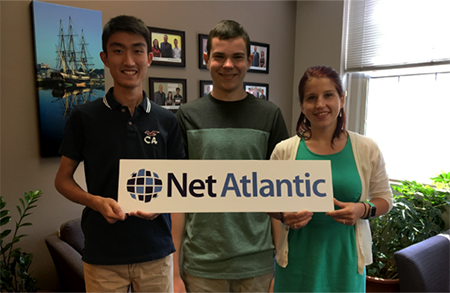 Salem, Massachusetts, June 9, 2017 -- Net Atlantic, Inc. continues its successful Internship Program by hiring summer interns Seth Chouinard, Erica Gianoulis and Calvin Cheung.

Seth Chouinard joined Net Atlantic this spring as a Web Design Intern.

Seth is a 16 year-old Junior at Essex Technical High School. Next year, he will enter the networking portion of the school's IT program, through which he will work his way toward Cisco and Comptia certifications. He intends to continue studying networking in college, where he plans to obtain a Bachelor's degree in Computer Science.

When he's not coding, Seth enjoys mountain biking and Taekwando, and he is well on his way to getting his 3rd Degree Black Belt by the end of 2017.

Erica Gianoulis has joined the company's Sales department as a Business Development Intern.

A resident of Danvers, Erica Gianoulis is a student at Southern New Hampshire University. Erica is participating in the university's "Degree in Three" program, in which she is earning her Bachelor's degree in three years instead of four. Her ambitious schedule includes taking 7 – 10 classes per semester. She is due to graduate in 2018.

Erica is outgoing and a great communicator. She loves to learn, and her favorite classes have focused on business law. In addition, she has enjoyed opportunities to work on campus with the university's corporate partners, including Enterprise Holdings (Enterprise Rent-A-Car) and CCA Global Corporation. When she's not studying or attending class, Erica enjoys fitness and going to the gym.

Calvin Cheung, a native of Lynn, MA, has joined the Finance and Administration department for his internship.

Calvin will be a freshman at Bentley University this fall, and plans to major in Economics and Finance.

At Lynn Classical High School, Calvin graduated second in his class in spring 2017. He also played first singles on the Lynn Classical tennis team, and contributed to their first-ever win of the Northeast Conference Title.

Calvin's older brother, Larry, interned successfully at Net Atlantic in 2011 and 2012 in a business development role.

Net Atlantic's internship program provides students with practical work experience that enhances their academic training. For more information about the program, or about Net Atlantic's products and services, visit the company's website at www.netatlantic.com.


About Net Atlantic

Founded in 1995, Net Atlantic is one of the first Email Service Providers (ESPs), and a pioneering industry leader in email marketing. The company offers feature-rich email marketing solutions at a cost-effective price. With unparalleled email marketing capabilities, expert deliverability management and personal technical support, customers can successfully create, send, track and manage their email campaigns. To learn more about Net Atlantic, please visit www.netatlantic.com.
Copyright © 2017 Net Atlantic, Inc.
Contact:
Net Atlantic, Inc.
978-219-1900
marketing@netatlantic.com