Press Releases
2023 | 2022 | 2021 | 2020 | 2019 | 2018 | 2017 | 2016 | 2015 | 2014 | 2013 | 2012 | 2011 | 2010 | 2009 | 2008 | 2007 | 2006 | 2005 | 2004 | 2003
Net Atlantic Supports Salem State University's Business Pitch Competition
Salem, MA, April 11, 2023 - Net Atlantic announced their support for the Third Annual Viking Business Pitch Competition at Salem State University. The Net Atlantic leadership team Andrew Lutts, R.J. Phipps, and Terran Mazzaglia attended the annual event, hosted by the Bertolon School of Business. The competition featured innovative business ideas pitched by eight teams of Salem State students, with a panel of judges selected from the local entrepreneurial community.
The competition offered cash awards of $3,000 for first place, $2,000 for second place, and $1,000 for third place individuals or teams, respectively. In addition, all the other student finalists received $250 per team. The event was attended by peers, faculty, parents and friends, venture capitalists, business leaders, and angel investors.
The experience provided an opportunity to see a wide variety of innovative and creative business ideas presented by college students, and learn about the power of innovative thinking, effective communication, and emerging trends and opportunities.The Competition highlighted and showcased valuable insights into the ideas, thinking, challenges, problem solving, and opportunities facing entrepreneurs and small business owners.
"We were thoroughly impressed by the creativity, innovation, and professionalism displayed by the students during their presentations," said Andrew Lutts, Founder & CEO of Net Atlantic. "Over the years, Net Atlantic has provided scholarships and internships to students from Salem State University, and it is always inspiring to see the next generation of entrepreneurs and business leaders in action. We are proud to support initiatives like this that encourage and celebrate their entrepreneurial spirit.
The eight student teams in the competition included:
Glen Gjuraj - Harmony (recycled textile services)
Henry Doherty, Michael Flynn, Jack Pender - Political Ed (plain-language unbiased political media education and reporting)
Nicholas Torresi - Poolnet (swimming pool safety device)
Lorianny Guzman - Gomu Gomu Cafe (anime themed cafe)
Chiemeka Amanze, Joseph Severe - Univibe (social network for college students) ( https://www.joinunivibe.com - currently offline )
Lorimer Mateo Rondon - Stoor (valet storage solutions)
Rose Biandie Jean Mary - AllThingsRosemetics ( https://www.allthingsrosemetics.net )
Ashlynn Doe - AfrikBrand (African products online store)
The Winners: 1st Place: PoliticalEd, 2nd Place: Rosemetics, 3rd Place: Harmony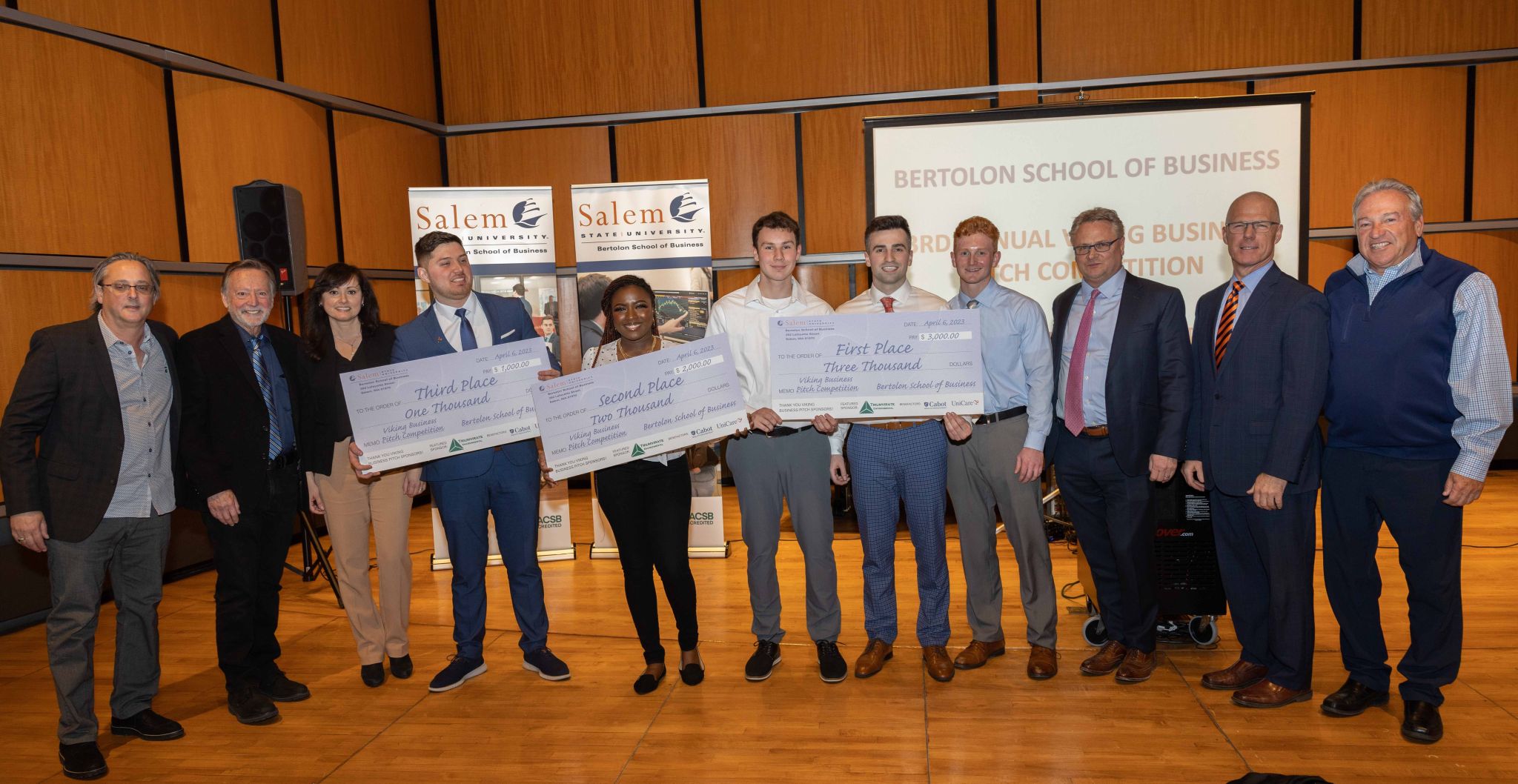 Resources
Salem State University Viking Pitch Competition page: https://www.salemstate.edu/calendar/2023-viking-business-pitch-competition-apr-06-2023
About Salem State University
Salem State University offers high-quality, affordable bachelor's and master's degree programs in beautiful Salem, Massachusetts. The University offers degree programs from six colleges including liberal arts, education, nursing, business, social work and many more. Learn more at https://www.salemstate.edu

About Net Atlantic, Inc.
Net Atlantic is a pioneer and industry leader in the field of email marketing. Since 1995, Net Atlantic, Inc. has been assisting companies and organizations to create, send, deliver, and track email campaigns to help fuel growth, generate response, advocate positions, and drive revenue. The company has helped clients achieve high levels of success in the areas of publishing, financial services, insurance, non-profits, politics, lead generation, and much more. With clients like PayPal, GEICO, and BlueCross BlueShield, the company continues to help their customers dominate their business areas and defend industry leadership. The company's email marketing capabilities, expert deliverability management, and personal technical account management provides our clients with unparalleled professional guidance to drive superior email marketing results. To learn more about Net Atlantic's email marketing solutions, please visit: https://www.netatlantic.com
Copyright © 2023 Net Atlantic, Inc.
Contact:
Net Atlantic, Inc.
978-219-1900
marketing@netatlantic.com
WE'RE HERE FOR YOU
Book A Call With One of Our Experts
Fill out this form and one of our email specialists will contact you about how we can help you
achieve even greater engagement by switching to Net Atlantic for email marketing services.