Geolocation Tracking & Reporting
Know exactly where your subscribers are and improve campaign segmentation, personalization and targeting.
Our highly accurate Geolocation Tracking and Reporting feature takes the guesswork out of knowing exactly where your emails are going. It provides a deeper level of detailed demographic reporting, enabling you to better target your campaigns. Fully integrated into Net Atlantic's Professional and Enterprise Editions, this powerful feature shows you where your emails are performing best, and helps you create more successful – and profitable – campaigns.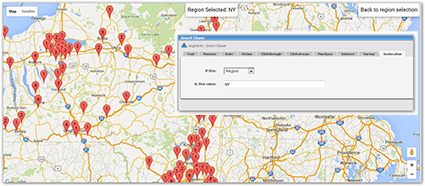 Click for Larger Image
Benefits
View detailed data in a visual map or in list format; reports are easy to understand and interpret
Get a clearer picture of your subscribers and customers
Use report data to determine where and how to target future email campaigns and ads
Know where your subscribers are so you can more effectively personalize campaigns – and get better results
Find out which of your offers and/or products are having the most impact in a particular region
Include locally relevant information in your emails, such as weather forecasts or ads for other local businesses
Drill down to the actual city your message is opened in
How Does It Work?
The geolocation feature works by checking the IP address of the subscriber against an IP address-to-location database. This lookup happens every time one of your subscribers opens or clicks a link in an HTML email that you have sent them.
How Can Geolocation Tracking and Reporting Help Your Business?
Brick-and-mortar retail shops, restaurants, bars, gyms, and other locally-focused businesses can use the information in these detailed reports to:
Determine which local advertising vehicles you should consider (local papers, billboards etc.)
Test different special offers to determine which ones work better in which geographical areas, enabling better targeting (and results) for future campaigns
Help decide where to open an additional location
See how far people are traveling to visit your business, with an eye to determining delivery zones, etc.
Want to learn more about Geolocation? Curious about Net Atlantic's expert email marketing solutions? Contact an Account Executive at (877) 263-8285 today!
WE'RE HERE FOR YOU
Book A Call With One of Our Experts
Fill out this form and one of our email specialists will contact you about how we can help you
achieve even greater engagement by switching to Net Atlantic for email marketing services.