WELCOME TO THE NEXT LEVEL OF NET ATLANTIC
Our developers have been working away behind the scenes to make email marketing with Net Atlantic better than ever. And we're super excited to announce several fantastic new features and upgrades to our Professional and Enterprise services:

NEW Responsive Email Designer
NEW Litmus Email Previews and Spam Testing
IMPROVED User Interface
IMPROVED Security: We now support the most modern and secure version of TLS (TLS 1.2)
Scroll down to get the whole scoop!
NEW! RESPONSIVE EMAIL DESIGNER (RED)
Create Emails that Display Beautifully On Any Device
Now anyone, regardless of technical skills or experience, can create and send powerful email campaigns that render beautifully - no matter which device they're viewed on:

Smartphones
Tablets
Laptops
PCs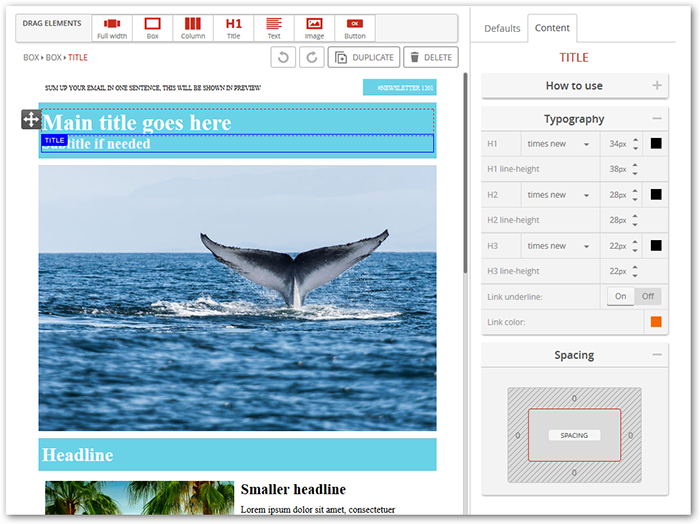 The Responsive Email Designer user interface.
Unlike many existing HTML editors, our Responsive Email Designer's intuitive, drag-and-drop functionality makes it easy to create responsive emails. So you can rest assured that your messages will be viewed as they were meant to be.

Plus, there's no need to reinvent the wheel for every campaign. Create your template once and use it again and again!
Want to learn more about RED?
LITMUS INBOX PREVIEWS AND SPAM FILTER TESTING
Eliminate send button anxiety!
We've partnered with Litmus, the market leader in email testing, to help ensure your messages are perfect before you hit "send". Litmus provides simple, web-based applications that perfectly complement Net Atlantic's powerful email marketing solutions. And they're your new secret weapon for bulletproof campaigns.
Litmus Inbox Previews
See How Your Emails Will Look In 40+ Email Clients - Before They Go Out

The Litmus Inbox Previews user interface.
Fully integrated into our Professional and Enterprise Editions, Litmus Inbox Previews enables you to easily preview your campaigns in more than 40 real email clients in minutes. You'll see how your emails are going to look on webmail clients such as Yahoo, Gmail, Hotmail, and more, as well as internal clients including Outlook, MacMail, Lotus Notes mail, and many others - before you send them.
Litmus SPAM Filter Testing
Get your email scanned by every major spam filter before you send.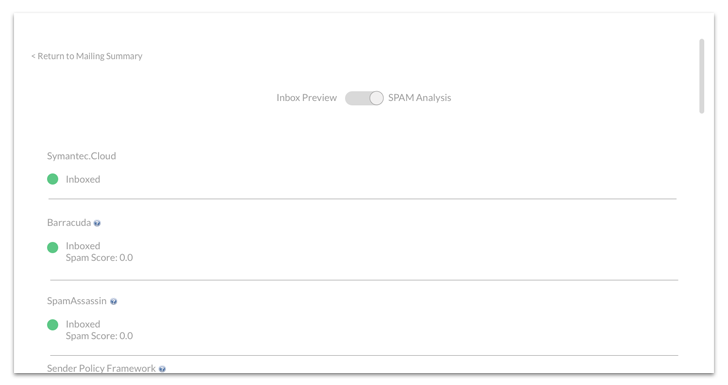 The Litmus Spam Filter Testing user interface.
This comprehensive test checks your authentication and reputation, and provides scores and feedback for common ISP and corporate filters.

These powerful new features will give you the peace of mind to deploy your email campaigns with confidence.
Contact us to learn more about Litmus Integration, including pricing.
USER INTERFACE IMPROVEMENTS
We've given our user interface a makeover! We hope you'll find the user interface cleaner, brighter, and easier to read. Plus, to provide you with the most up-to-date security, we now support the latest version of TLS (TLS 1.2).

And if you're a current customer, don't worry – we didn't make any structural changes, so the upgrade won't get in the way of the workflow you're used to! Check it out next time you log in, and let us know what you think!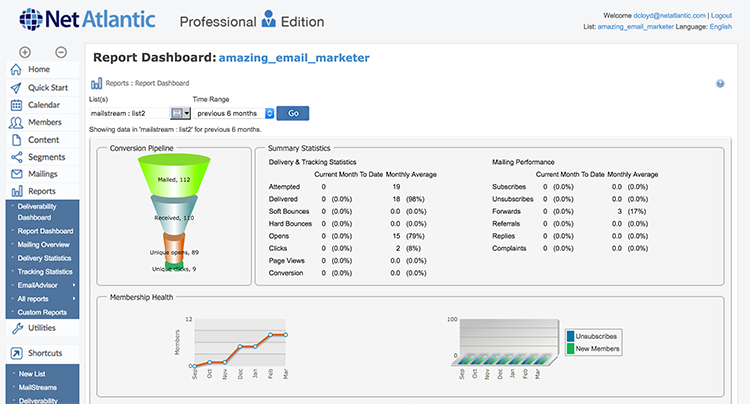 Improved User Interface.
Want to learn more about these great new features, or find out how we can help you reach your email marketing goals?
WE'RE HERE FOR YOU
Book A Call With One of Our Experts
Fill out this form and one of our email specialists will contact you about how we can help you
achieve even greater engagement by switching to Net Atlantic for email marketing services.