An Old-School Sales Tool Resurfaces to Help Close New Business: The One Page Sell-Sheet
by Alyssa Rice
Introduction
One-page documents will save you time and money, acquire customers in an effective way, and provide clarity. The best one-page documents will turn a prospect into a customer, a stranger to an investor, and an uninterested party to a captivated party.
What is a one-page document?

A one-page document is a marketing asset that can describe your business, your products, or your services. It only contains a single page of information, as the name suggests. It is like a brochure, but is less work for the reader.

There are many different names that these go by, which include:
Sales sheets
Data sheets
Product sheets
PDF data sheets
One-sheets
Sell sheets
One pagers
One-sheeter
And of course just like they say it is harder to give a two minute speech then a ten minute speech, it can be a challenge to put all the great things you want to say about your product, service and company all into one single page. That said, it's definitely worth the effort to do so, as nobody has time any longer to read pages and pages of text.
Benefits of One Page Sell Sheets
1. The first benefit is that they provide clarity. Just the essential information, please! One-sheets read quickly, provide concise descriptions and facts, and include the benefits of your product or service.
2. Another benefit is that a one-sheet is brief and attention-grabbing. Nobody wants to read through a pamphlet, or have to sift through a large brochure full of information. A one-pager will clinch your customer's attention span that will make them remember who you are.
3. It also gives customers something to hold on to. A customer could be organizing their desk or home office or car one day and find your one-sheet, and then remember who you are and decide they want to pursue your products and services. It is a tangible item in a world full of digital advertisement, which will make out to your advantage. Just like postal mail can have certain advantages over email, a one-sheet can also have that kind of advantage in certain situations.
4. Many business people expect these. One-sheets are a kind of executive summary. A document that cuts through the fluff. And they're great for showing to a superior or manager for getting budget approval and signoff on a project, solution, or software. It's solid and real and tangible, and that's a good thing.
5. Your sales team will love using them. It helps them sell. One-sheets can be easily sent by email as an attachment, printed out for in-person use, given out at trade shows, and more.
How to Write a One-Sheet
When writing a one-sheet, make sure to include what is best for your business. But, there are some key staples for writing these documents. Make sure your one-sheet includes the following:
1. Logo and Company Name
This is a little bit of a no-brainer, but we just wanted to stress the importance of it.
2. Product or Service Name
Prospects need to know what they are buying. You want to get your product name in their head to start the brand recognition.
3. Description
In this section, you want to clearly and briefly describe your product or service. In this section, you also want to mention pain points. Make sure to accurately describe the pain points without sounding too negative. You want to connect with the audience, not put them in a bad mood.
4. Clear Title, and if possible your Biggest Value Proposition
The first aspect of the sheet that is read is the title. It is imperative that it captures their interest. And if your biggest value proposition is something that a prospect is looking for, even better.
5. Colorful visuals
Even before the title is read, you want to create an eye-catching, visually-attractive page. If you haven't already, create a color palette that works for your company. Canva Pro allows you to create color palettes and even suggests colors to put together.
6. Attractive data visuals
Nobody wants to read numbers, they want to see them. It's a one-page sheet, so there will be quick glances at different aspects of the sheet. Colorful charts can tell a story that sometimes take too long with words.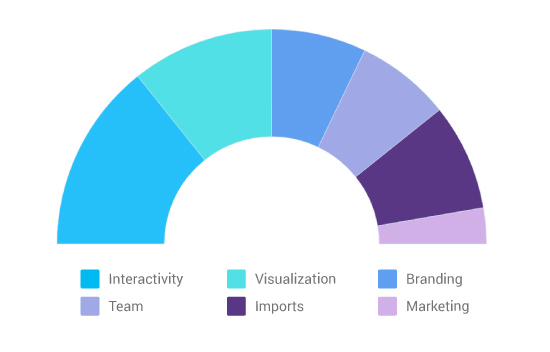 7. Benefits
Your customers need to know why they should become your customer. Including benefits will show them what they are missing and what they didn't even realize was a benefit in the first place.
8. Call-to-action
End the sheet with a compelling call-to-action. You can use phrases like "Call me today at 123-456-7890" or "Start saving today!".
9. Contact Information
Your phone number, name, title, address, social media channels, email; anything that will make it easy for people to find you.
Other things you can add to your one-sheets include testimonials from your customers or employees, features of your products or services, a section about "who we are", and results or success stories from past clients.
Examples
Here are three good examples of one-page documents.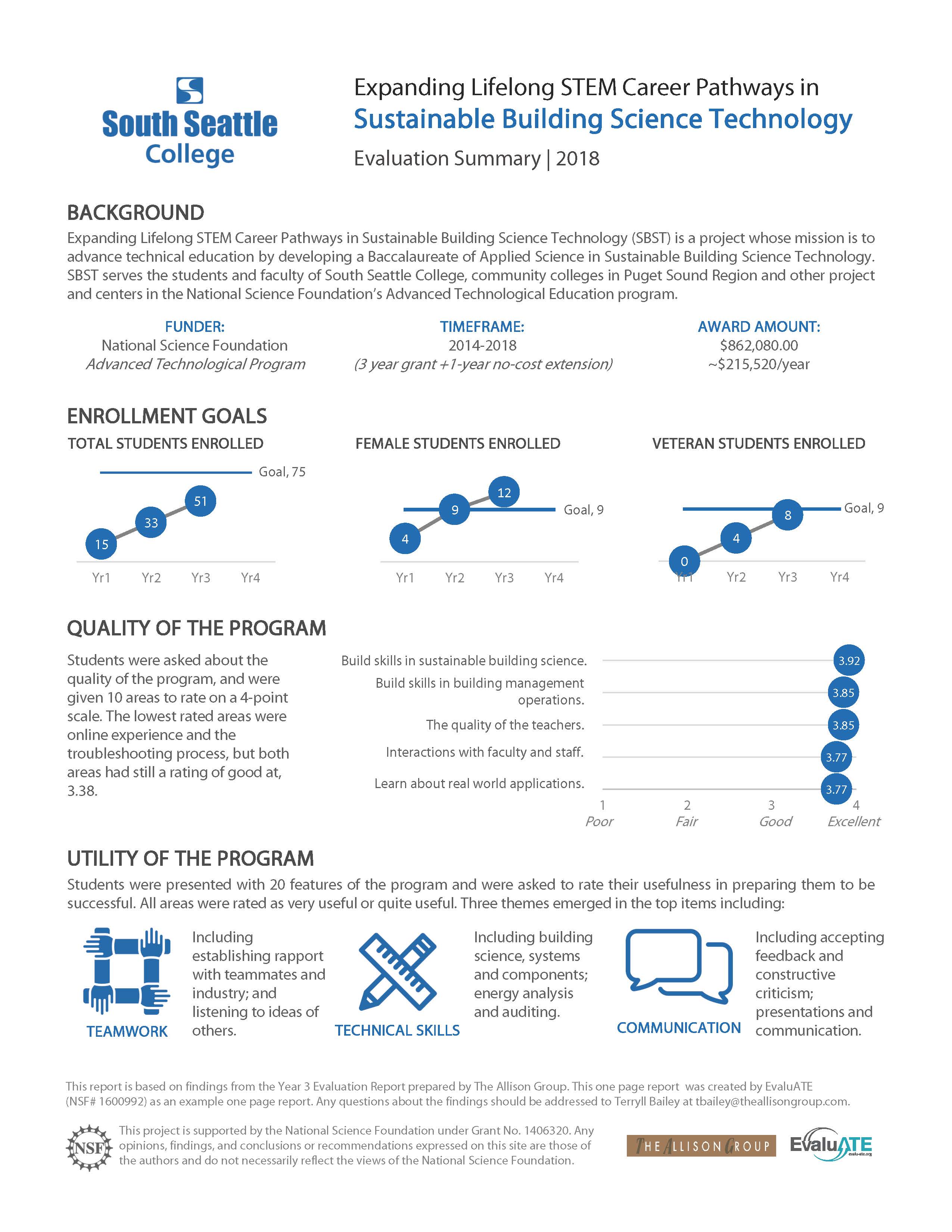 This example from South Seattle College has great visuals that pop, an organized and clean color palette, and easy to read blurbs. There's lots of information conveyed here, and it's communicated very well.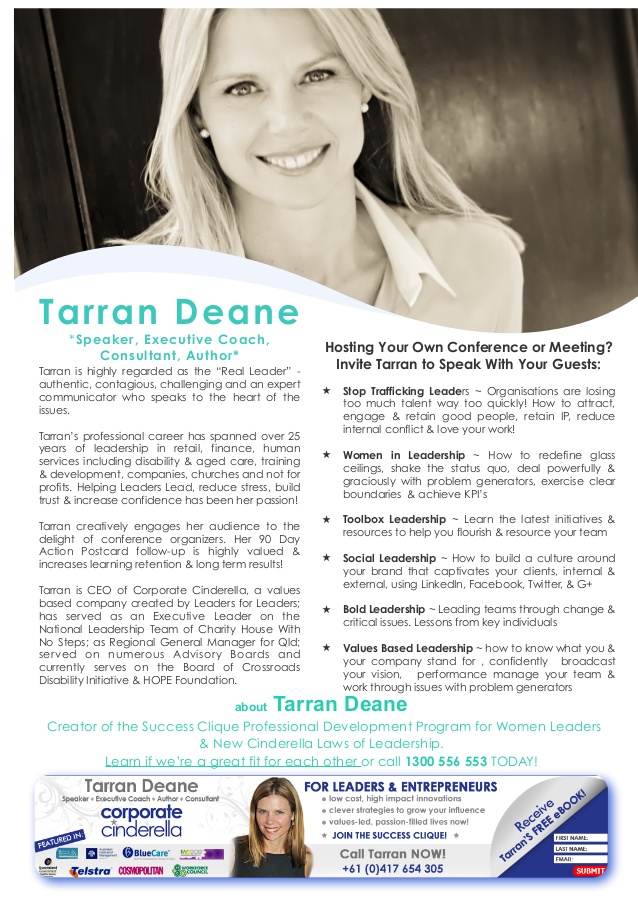 This one-sheet for Tarran Deane is clear and to the point. Her headshots are eye-catching and she has a clear call-to-action.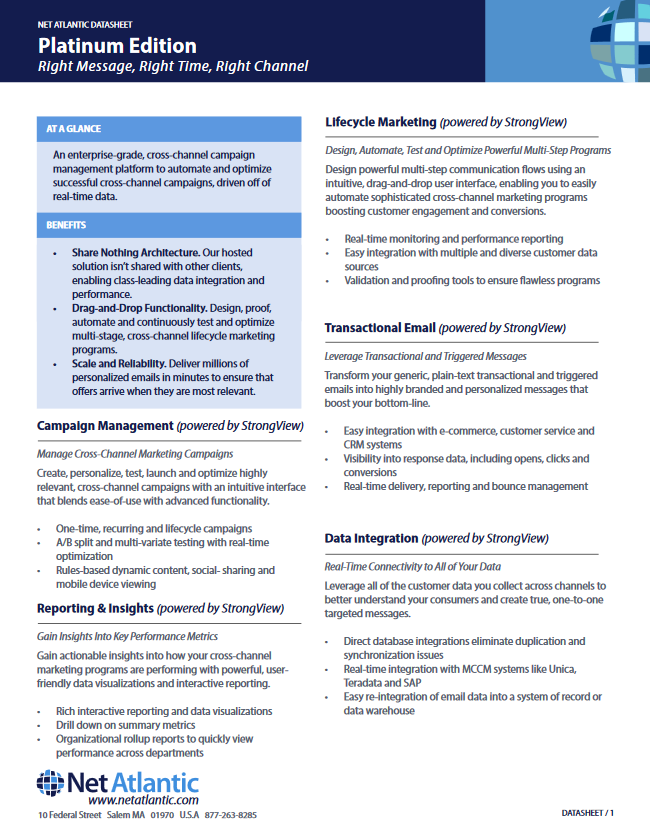 This one-sheet is focused Net Atlantic's Platinum Edition email marketing campaign management platform. This includes benefits, contact information, and a business-friendly clean color palette that matches the company logo. A few more graphics used lightly could improve the presentation, but nonetheless various technical information is communicated well.

Helpful Tools to Use To Create Your One-Sheet Sales Page

Canva: It is amazing for graphic design and creating eye-catching, appealing visuals.
Xtensio, How to Create a Company One-Pager: Find some free templates and tips here.
Grammarly: Nobody's grammar and writing are ever perfect. This platform will ensure that you have no spelling errors and your sentences flow smoothly.
Conclusion

A one-page sheet will summarize your business, products, and services. Whether you are a B2C or B2B, Fortune 500 company, or a small business, create your one-sheet now and benefit from this effective sales tool.
Resources

Canva https://www.canva.com/
Net Atlantic Data Sheet on our Platinum Edition https://www.netatlantic.com/docs/NetAtlantic-PlatinumEdition.pdf
Start Using Grammarly Today https://www.grammarly.com/p
Xtensio https://xtensio.com/how-to-create-a-one-pager/