Strategies on Growing Your Email Mailing List - Without Compromising Your Opt-In Principles!
from Lyris Making Mail Work email newsletter
Of the many topics on the mind of email marketers these days, growing a company's email list is undoubtedly one of the hottest. After all, isn't that one of the main goals of your email marketing campaigns: to keep your customers and subscribers updated about your company and to increase the number of people who you reach with your email campaigns?
Because having a large and ever-growing list is such a paramount goal, it can be tempting for some marketers to think about fudging the rules a bit around "permission-based" email. They know that any new subscribers should be opt-in subscribers, but they're not sure how to go about increasing their list while keeping to that important standard.
Here's some tips for how to grow your list without compromising your commitment to your opt-in, permission based email subscription process.
1. Leverage your Touchpoints
One good strategy to start with: take an inventory of your customer and prospect touchpoints - the ways you already make contact with potential readers. You may be surprised at the number of potential "touches" you have. Consider whether some of the following would be suitable vehicles for promoting your newsletter:
Email signatures, especially those used by customer service and sales representatives
"Contact us" information listed in brochures, print newsletters, etc.
Retail or office lobby display
Invoices, statements and receipts
Tradeshow giveaways
Package inserts
2. Evaluate your Web site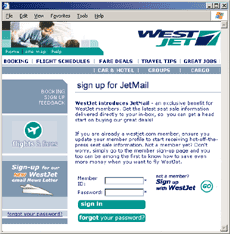 In many of your touchpoints, you may be promoting your Web site address rather than the email newsletter itself.
So how easy is to find out about your e-newsletter by visiting your Web site? Is there a prominent graphic invitation to subscribe, easy to find from most pages of your site? Or is it just a small link in the footer of the home page? Do you provide a clear description of the newsletter, including its frequency and the benefits of subscribing?
Here is an example of how one company, Westjet, promotes its email newsletter, called "JetMail."
Notice the appealing graphic of the paper airplane in the lower left corner - it appears on multiple pages throughout the site. Advertising & New Media Manager Margaret Glover-Campbell notes that she matches the look and feel of Westjet's national newspaper ads for a consistent brand message.
And of course, you'll want to make sure you take advantage of ListManager's handy HTML signup forms to allow readers to subscribe easily.
3. Consider List Rentals
Growing your base through list rental can be a risky proposition.
Renting lists from questionable sources who claim (but can't prove) that list members have opted in only builds your list in the short term. In the longer term, it's actually a great way to get flagged as a spammer, so that ISPs and corporate mail systems will block your e-mail before it reaches the folks who actually want to hear from you.
Of course, there are responsible list brokers, and if your publication is aimed at a highly targeted audience, then renting a list that comes from a legitimate publisher or professional organization may be a reasonable strategy.
Let's say you run a school that offers continuing education credits for accountants, and your target market is Certified Public Accountants in Cleveland.
If the CPA Club of Cleveland does have an opt-in list of members available for rental, make sure that your email to these prospective list members advises them how and why they are receiving your message:
As a member of the Cleveland CPA Club, you indicated that you would like to receive information about Continuing Education Opportunities in the Cleveland area.
The chances that readers will be receptive to this initial mailing and eventually choose to subscribe to your publication will increase if you can offer something of value right away - perhaps a discount on your services or useful information on average hourly fees for CPAs in Ohio.
4. Convert offline prospects to online readers
You might also consider reaching the members of the Cleveland CPA Club without sending them an email directly:
Advertise in the organization's Web site, email newsletter or print publication
Sponsor an event
Send a hard copy postcard
Again, the response to any of these promotions will probably be highest if you can offer something of value. Whether your promotion invites people to visit your home page, or links directly to a special promotional page, make sure that page also includes a clear and appealing invitation to subscribe to your newsletter.
5. Buddy up
Perhaps the Cleveland CPA Club has its own email newsletter. Consider setting up a co-marketing arrangement: on the same Web page where Cleveland CPAs subscribe to the Cleveland CPA news, they will be offered the opportunity to sign up for your newsletter as well. Sometimes co-marketing opportunities are essentially advertising agreements (you pay to have your newsletter promoted on the other Web site) but they may also be available on a reciprocal basis (you promote their newsletter on your site, and vice versa).
6. Let your readers take charge
Of course, the most effective marketing strategy ever is word of mouth. Make it easy for your loyal readers to become evangelists for your publication by:
Inviting readers to help
For example, email marketing journalist Anne Holland of MarketingSherpa includes the words "Pls Forward Newsletter" in the subject lines of all her newsletters.
Providing instructions (!)
Every ethical email publisher includes unsubscribe instructions in their emails, but make sure you also include instructions on how to subscribe. If your newsletter gets forwarded, you want to make sure interested recipients can easily sign up for their own subscription!
Taking advantage of the technology
Use a Refer-A-Friend technology to track the success of an individual referral all the way to the friend's resulting open, clickthrough, and subscription request.
Another advantage: Refer-a-Friend safeguards your list's opt-in integrity - the friend receives the newsletter only after accepting your list member's invitation to join.
Net Atlantic uses the industry leading Lyris List Manager program for email newsletter hosting services.
WE'RE HERE FOR YOU
Book A Call With One of Our Experts
Fill out this form and one of our email specialists will contact you about how we can help you
achieve even greater engagement by switching to Net Atlantic for email marketing services.