You Don't Have to be an Amazon Seller
to Benefit from Amazon Prime Day
by Andrew Lutts, Founder & CEO
AMAZON PRIME DAY
A virtual "Christmas in July," Amazon Prime Day has created a whole new reason for sellers to sell, and for shoppers to buy. In fact, this new "shopping holiday" already rivals Black Friday and Cyber Monday. Everyone in the ecommerce world loves adding another "special" day to sell online. The fact that it occurs in the middle of summer – normally a slow period for retail sales – is even better!

To make Prime Day a big success, Amazon does a masterful job in supporting their retailers. They give careful guidelines to their sellers on how to prepare for Prime Day, including:
Offering discount of 20% or more
Keeping plenty of inventory at Amazon ready to ship
Keeping sellers informed about their Prime Day promotional activities
And lots more
GET IN ON THE ACTION
One curious thing we noticed last year is how non-Amazon sellers adopted the holiday to promote their products outside of the Amazon network. And why not? Everyone loves a sale.

Although Prime Day is specifically for Amazon Prime customers, you can and should take advantage of the fact that lots of people want a deal, and the middle of July is just as good a time as any to get it. Just because you may not sell through Amazon, there's no reason why you can't offer your shoppers Prime Day-like specials and promotions too. In fact, if you don't make use of this special day, you could be passing up a great opportunity.

For example, in past years, here's what other retailers did to take advantage of the Prime Day online sales "bump":


J.C. Penney held a 48 hour "Penny Palooza" sale
Newegg offered a "Fantastech" day of deals
Kohls ran a Daily Deals promotion which overlapped with Amazon Prime Day
Wal-Mart offered a highly effective "Dare to Compare" competitive promotion
IDEAS FOR YOUR OWN PRIME DAY
Give some thought to various ideas below to see how you might be able to make use of Prime Day, and ride the wave of Christmas in July:


Publishers could offer 20% off an annual subscription to a website, community membership, or magazine subscription
Fitness clubs could offer 25% off membership for the first 3 months
Golf courses could offer 20% off all Pro Shop purchases for the day or month
Yoga studios could offer free community classes on Prime Day, as well as a 20% discount on new memberships and/or classes purchased that day
Online education or training companies could offer 25% off of all courses purchased that day, with a deeper discount on courses purchased during a "Lightning Deal", or flash sale, from 12pm to 1 pm
Hotels and conference centers could offer 20% all services booked on Prime Day
TIPS TO MAKE SURE YOUR PRIME DAY PROMOTION SUCCEEDS
Amazon requires a 20% or higher discount on all Lightning Deals. You should match that too.
Consider making one part of your promotion time-limited with an even deeper discount or special offer.
If the nature of your business supports it, offer a Lightning Deal that's only available for a short period of time on Prime Day.
Use Prime Day as an opportunity to clean out your leftover stock, stale merchandise, etc., with "blow it out the door" pricing. It's important to ensure you have enough product to meet demand, but it's okay to run out of product on Prime Day (because of robust sales volume). In fact, that's what you want to happen! Just be sure you have enough product on hand.
Send several reminders to your customers and prospects, via email and other channels, in advance of Prime Day to get them revved-up.
On Prime Day itself, send an email early in the day to promote, and capitalize on, your best specials.
Offer free shipping – Amazon's free, two-day shipping for Prime members is a key benefit of the program.
Offer same-day shipping if possible, to capture the excitement and immediacy of Prime Day (for the "got to have it now" customers)
AMAZON PRIME DAY AND PRIME DAY RESPONSIVE EMAIL TEMPLATES
To help you with your efforts, we're also offering two free, built-in responsive email templates that you can use to promote your own Prime Day-style event. Download these templates to use in any email editor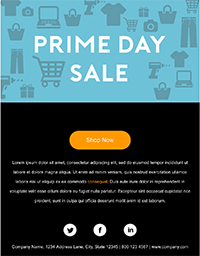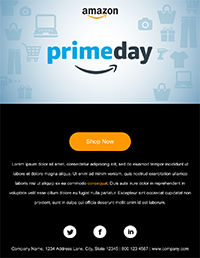 CONCLUSION
Amazon Prime Day used to be all about Amazon. But now anyone selling anything over the internet or otherwise should make use of this powerful promotional opportunity.
You no longer have to be an official Amazon reseller to benefit from your own Prime Day. Think about how you can bootstrap your promotional efforts with a great offer and by making a big selling splash on Prime Day!
WE'RE HERE FOR YOU
Book A Call With One of Our Experts
Fill out this form and one of our email specialists will contact you about how we can help you
achieve even greater engagement by switching to Net Atlantic for email marketing services.