Holiday Email Marketing Campaigns: Surefire Strategies That Can Work for You
6 Tactics to drive engagement and generate superior campaign results.
by Alyssa Rice
As we are entering Thanksgiving and the December holidays, you are probably starting to plan your holiday email marketing campaigns. Email and ecommerce has grown a lot over the last few years, as more and more people shop and buy online. Even bricks and mortar locations can benefit from email reminders this year. Email is critical for getting people to your business.
Here are the key dates for 2021 to launch themed email marketing campaigns:

Thanksgiving: November 25, 2021
Black Friday: November 26, 2021
Small Business Saturday: November 27, 2021
Cyber Monday: November 29, 2021
Giving Tuesday: November 30, 2021
Hannukkah: November 28, 2021 through December 6, 2021
Christmas: December 25, 2021
New Year's Eve: December 31, 2021
New Year's Day: January 1, 2022
Holiday marketing campaigns can be the holy grail of your business. It is your company's final push of the year, and we want to tell you how you can make it great. Here is a list of our recommendations for successful holiday campaigns.
1) Use Holiday Buzz Words
Here is a list of phrases and words you can use that are non-denominational and buzz-worthy. These words can really get your customers in the holiday spirit!
Holiday: Cheer, Celebrate, Family, Holiday Food, Happy,
Promotions: Act Fast, Black Friday Deal, Today Only, Holiday Savings, Free Shipping
Showing thankfulness: Thank you, Your Support, Our Appreciation for You
For inspiration, check out these 50 Best Holiday Email Subject Lines from LocalIQ.
2) Deploy Mobile-Friendly Emails
60.9% of the U.S. buyer population make purchases from their mobile device. You need to make sure your email marketing campaign is mobile-friendly and easy to navigate. If you aren't, you are going to have an incredible amount of lost sales.
Mobile friendly email is called "responsive." It displays correctly on phones, tablets, laptops and desktops, because it responds and renders correctly for best readability. Looks for responsive templates from your email service provider.
3) Align Your Content and Emails
Think about what makes the most sense for your business. What holidays are best for your business? For example, Black Friday deal email promotions would be best for stores that are online and brick-and-mortar. Companies like Best Buy, Target, and Walmart (see below for email) thrive during Black Friday.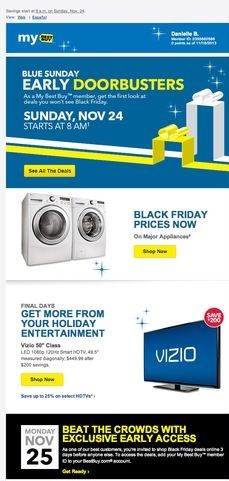 But even if your business is a service business, or your products are more virtual, you can still create effective email campaigns around them. Offer savings, specials, discounts, coupons and freebies to generate some buzz. Everyone wants a deal!
4) Make A Holiday Email Promotions Calendar
Create a calendar with weekly or daily promotions and deals. A visual calendar will make your customers excited. Better yet, it creates a month worth of email content for you.
This calendar will also make you think seriously about your promotions, the spacing of them, and how they may be received. This is your roadmap for the next two months.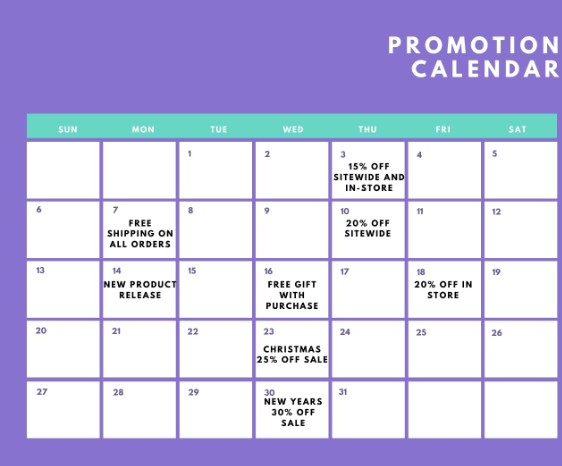 5) Use Non-Traditional Holiday Colors
Brown and white, lavender and silver, and blue and white are all non-denominational colors that will stand out beside the obligatory red and green colored emails. The idea here is to stay away from the basic red and green themed emails that fill our inbox.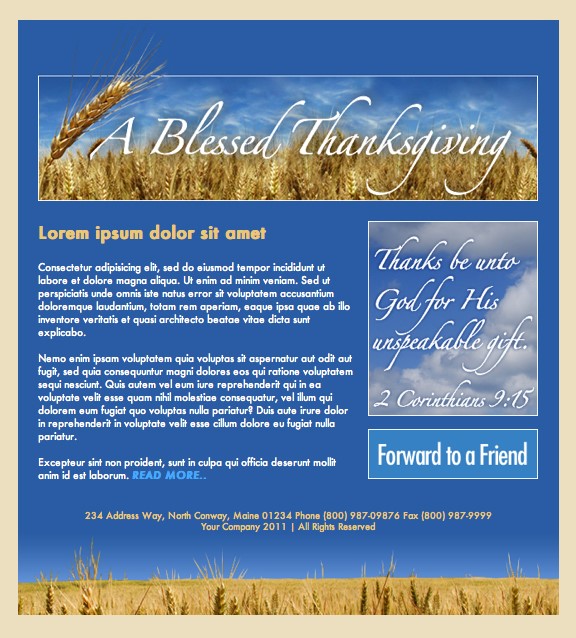 6) Add A Little Fun Into Your Emails
Everyone loves graphics, GIFs, and memes! Add in a holiday-themed joke to make your reader's day a little bit better. Careful use of emojis or holiday-themed graphics will help you with your competition. Have a silly contest to generate response and engagement. Make a simple survey for your subscribers with a holiday theme. Connect in a personal way.
Conclusion
Consider using a carefully planned editorial calendar to schedule and execute relevant, enticing promotions for increased sales this holiday season. Try to connect on a fun or genuine way for increased response. Try to do something a bit different to stand out, connect with your readers, and resonate with your subscribers. Inject some personality and humanity into your messages. These strategies will let your emails shine in all of your reader's inboxes.
Resources
50+ Best Holiday Email Subject Lines to Try This Season - https://localiq.com/blog/holiday-email-subject-lines/
Pinterest Board with Holiday Email Designs - https://www.pinterest.com/kg7488a/email-design-thanksgivingblack-fridaycyber-monday/
Embracing Mobile Marketing - https://www.netatlantic.com/resources/articles/article24-2011-is-here-do-you-have-a-mobile-strategy
It's Time to Get Responsive (Email Format) - https://blog.netatlantic.com/2015/12/18/its-time-to-get-responsive-design/
Experts Guide to Email Marketing - https://www.netatlantic.com/docs/NetAtlantic-ExpertsGuideToEmailMarketing.pdf
Net Atlantic's Holiday Email Templates - https://netatlantic.com/emailmarketing/holidaytemplates