How to Implement Interactivity into Your Email Marketing for Increased Engagement and Response
By Alyssa Rice
Introduction
As email marketing evolves, so do ways to captivate and maintain your reader's attention. Interesting copy is just not enough. Other strategies need to be implemented to entertain your reader.
You may conclude that some of these elements are silly or cheesy, but people like them and interact with them. Interactivity is a great way to get your subscribers interacting with your emails and online properties.
According to DemandGen, 91% of B2B buyers prefer to consume interactive and visual content over static content.
If you do not provide interactive content, you are missing out on valuable conversions.

The benefits of interactivity are:
Increased engagement
Increased click rates
Increased reader attention
Higher conversion rate
More audience data
Don't know how to implement interactivity? Here are some of the best ways to incorporate it into your email marketing campaigns:
1.
Real-time Marketing
According to G2, real-time marketing occurs when a component of your message operates in real time and creates relevant (and timely) messaging through your company's channels.
This is more personal and interactive because it's a topic that most people are familiar with.
McDonalds displayed this recently. The fast-food chain is famous for their popular arches. To recognize International Women's Day, they flipped some of their arch's upside down into a "W".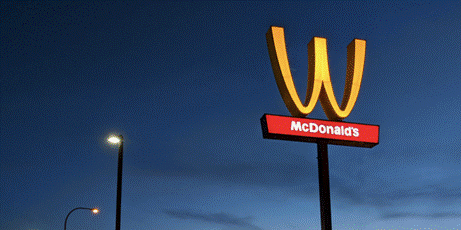 2.
Animated GIFs
Animated GIFs are image files that are dynamic instead of static. They are eye-catching, can generate more clicks, and can be used to provoke emotions like humor, happiness, guilt, or nostalgia.
They can easily be embedded into emails. Use this how-to video from DesignModo so you can put a GIF in your next email.
3.
Countdown Timers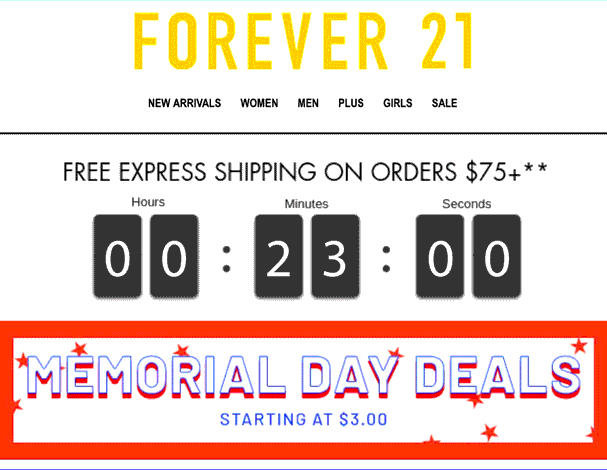 Are you having a sale, releasing a new collection, or going to make a major announcement? A countdown timer will be your best friend. It is interactive, creates a hype around your brand, and gives readers a sense of urgency.
Watch this how-to video on how to add the timer to your email.
4.
Surveys, Polls, or Reviews
When prompted with a question in an email, the reader is more likely to answer than if you send them to a landing page.
Ask your reader how your company is doing. You can include a thumbs up and thumbs down. You can also ask your reader about themselves to retrieve valuable information, such as their gender identity or favorite type of dessert.
The great benefit to this strategy is the retrieval of valuable insight on your company and your customer.
The screenshot below shows Airbnb asking a customer to rate their stay. This will give Airbnb insight to how they're doing as a company. If the customer is dissatisfied, they will have the chance to make it right with the customer and learn from their mistakes. If the customer is satisfied, they will know what they should continue to do in the future.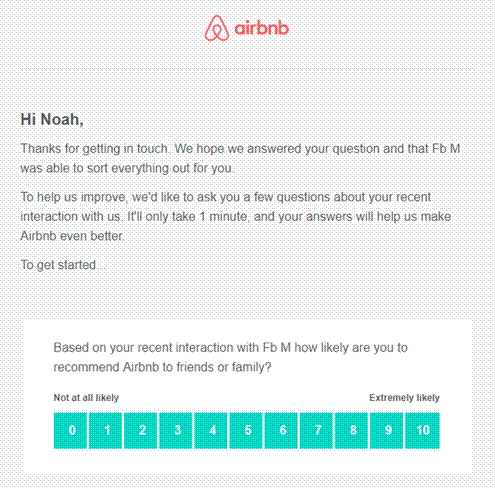 5. Gamification
This tactic is including some sort of game into your email. This strategy makes for great engagement and click-through rates.
Coding your emails may be slightly trickier with this one. If your newsletter caters to the audience who enjoys gamification, it will be worth implementing games.
Minga and Aveda have done this well with their interactive games.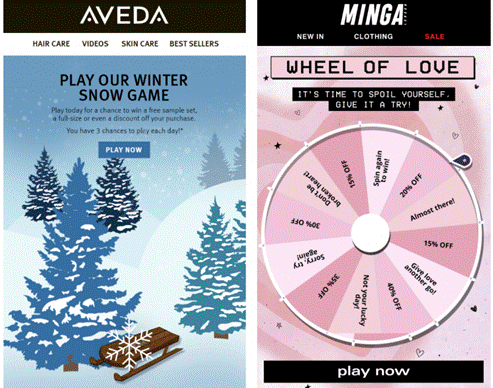 6. Menus
Including a navigation menu in emails has recently become a common trend. This tactic gives your customer many areas to click and will increase the chances of getting them to your landing page.
It also will prevent your readers from having to scroll to find the information they need. If there is a menu with categories at the top, the reader does not have to scroll all the way down the email and subsequently the chance of losing a reader is decreased.
You can format the navigation menu to look just like your website. Since you already have it, it shouldn't be too much extra work to put it into an email.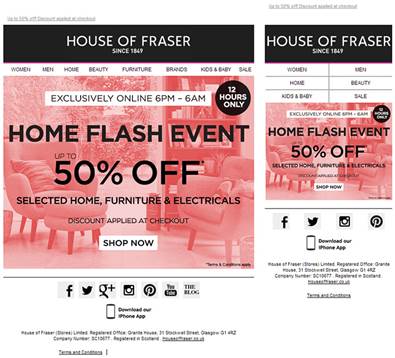 House of Fraser, a collection of men's, women's, and kid's luxury clothing, shoes and accessories, uses this tactic to include all of their different categories to shop from.
7. Scratch Cards
Scratch cards are a clickable element in an email. Once it's clicked, it reveals something to the reader. Email marketers often implement this for sales or free gifts with a purchase.
It is fun and most likely leads to an impromptu purchase, sign-up, or whatever your marketing goal is.
Bose conducted this strategy well. They created a sense of excitement letting the reader know there are savings underneath the scratch off. They also create a sense of urgency, saying that the deals won't last long.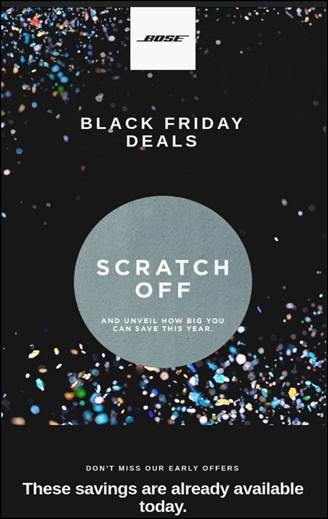 8. Image Rollover Effects
This tactic is when a reader places their cursor over an image, and it changes.
This can be helpful in various ways, including:
Showing a product from multiple angles
Getting a zoomed in look
Showing how a product looks on a person
Revealing the price
Revealing the item description
Showing functionality
Adding a button to click on
An interactive element is created, and it gives your reader more information that can lead to a conversion.
9. Live Shopping Carts
If your customer is building a cart and they abandon it, you should send them an email as a reminder that they haven't placed their order yet.
In that email, include whatever was in their cart. They are going to recognize everything since they had just picked it out.
You can even add a countdown to when the cart is going to reset to try to push for the sale. Or you can give them a percentage off as an incentive to purchase their cart.
Chubbies has a real creative way to gently push their customers back to their shopping cart.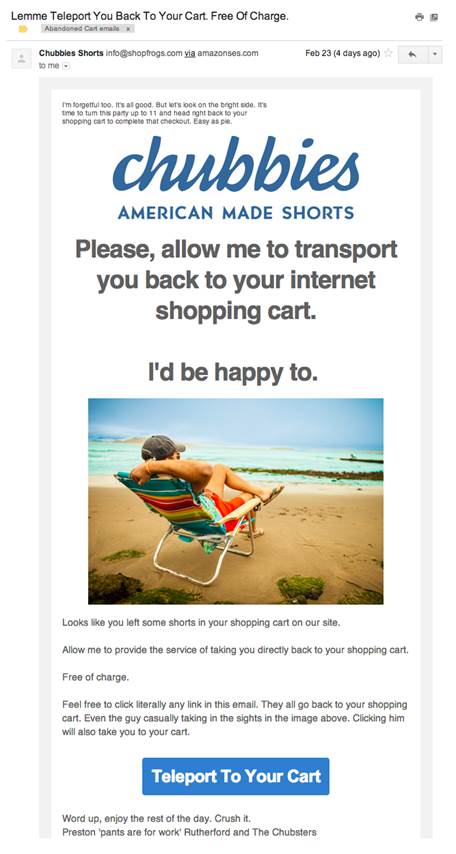 10. Anchor Links
Anchor links are links provided at the top of an email to bring the reader directly to what they want to read.
Although long emails aren't the best practice for engagement rates, sometimes they are needed. In this case, anchor links should always be implemented.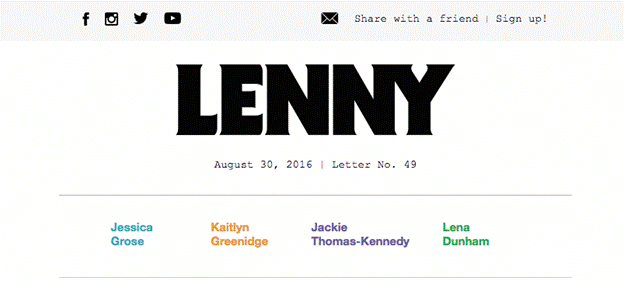 In this email, there are links embedded into each name. Therefore, if you want to read the content about that particular person, just click on it and it will take you down to it.
Conclusion
Emails have been an effective marketing tactic for years. But you have to keep updating your content to stay with the times and maintain your industry reputation.
Simply adding just one of these strategies will grab your reader's attention.
Whether it be GIFs, scratch off cards, or anchor links, any way to increase interactivity will benefit your brand's marketing strategy.
Resources
How to Place a GIF in your Email Newsletter https://designmodo.com/email-gif/
How to Add a Countdown Timer to your Email Newsletter https://www.youtube.com/watch?v=ipmOrFS9K_A