How to Integrate Your Email Marketing Strategy with Your Content Strategy Using 7 Tested Methods
By Lily A Greene
Email marketing is here to stay.
According to the Data & Marketing Association (DMA), the average ROI for email is $42 for every dollar spent — more than digital channels like social media and paid search.
But this doesn't mean you can simply blast your list and expect sales to come in. That will only cause your subscribers to leave in droves.
So how can you make your email marketing more effective? How can you leverage email to drive more traffic to your site and increase sales?
You do this by integrating email marketing into outbound strategies like content marketing.

What is Content Marketing?
Traditional advertising methods like print ads are undoubtedly effective, but they tend to be disruptive. They involve "pushing" your products or services with paid advertising.
Commercials are a good example of "push marketing." Moments before a major revelation in a show, you suddenly see ads promoting products you have little or no interest in.
"Pull marketing" takes a different approach. It involves implementing a strategy that naturally brings customers to your brand.
This is where content marketing comes in — publishing relevant and quality content with the goal of "pulling" customers in. One way is to identify questions your audience is asking and publish in-depth answers on your blog.
Let's say you have a business and you want to accept mobile payments. To learn more, you might search for something like "process mobile payments" and see this result.

From this page, you learn more about mobile payments and discover that Square just happens to offer a solution with its point-of-sale (POS) system.
Content marketing is one of the most effective ways to increase brand awareness. It generates three times more leads than outbound marketing while costing 62% less.
How Can You Integrate Email Marketing With Content Marketing?
Publishing great content helps you reach your target audience online and show how your products or services solve their pain points.
Social media platforms like Facebook and Twitter are a popular method of promoting your content. Once you publish a blog post, you simply share it with your audience to spread the word.
But don't stop there.
Email is still one of the most widely used tools for communication. Currently, there are 4.03 billion email users worldwide, and that figure is projected to reach 4.48 billion by 2024.
Most online users still use and depend on emails. Integrating your email campaigns with your content strategy delivers a high ROI and helps you build deeper relationships with your audience.
Let's look at how in the next section.
1. Segment Your List
Personalization is more important than ever.
Online users today are bombarded with information from every direction. This means some people won't bother giving something their full attention unless it grabs their interest.
Sending the same email to your entire list will benefit some readers and leave others feeling left out. Segmentation involves breaking up your email list based on certain characteristics.
You can segment your list based on:
Demographics
Purchase histories
Website behaviors
Personal interests
Professional backgrounds
Segmenting allows you to make your emails more relevant to each subscriber. That kind of personalization can lead to higher click-through rates and more conversions.
You can even take it a step further by assigning email templates to each buyer persona. This ensures that communications are tailored to a recipient and their specific preferences.
For example, look at these fundraising outreach templates.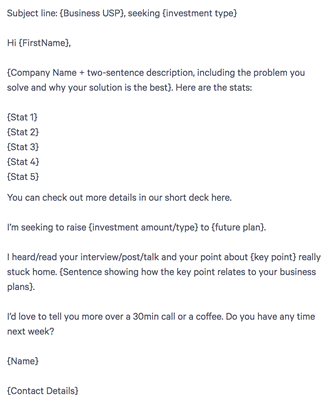 If you work with investors and are seeking funds for a new venture, you might segment your list and reach out to venture capitalists who have funded similar endeavors.
Segmenting your email addresses helps provide focus and relevance to your communications. Another related process around addressing your audience properly is to refresh, clean, update and validate your mailing list.
Cleaning your email list will help your email message deliver and engage with your subscribers far better, as ISPs and email mailbox providers (Hotmail, Gmail, Yahoo) see that you are sending emails to confirmed active email subscribers. We recommend the following two services to help accomplish this: Breadcrumbs and ListBuddy.
2. Decide on What Content to Promote
Your email list consists of subscribers who have opted to hear from you. It's important that you carefully consider what content to promote.
The key here is to provide value. Spamming your list with promotional messages will frustrate subscribers and cause them to ignore future emails or even unsubscribe.
If you've segmented your list, you've already got a head start. Examples include selecting content based on purchase history or pages visited.
Another tip to selecting what email content to promote is to reach out to your list and ask. As an example, Shopify asks new subscribers where they are in their business journey and includes links to helpful resources.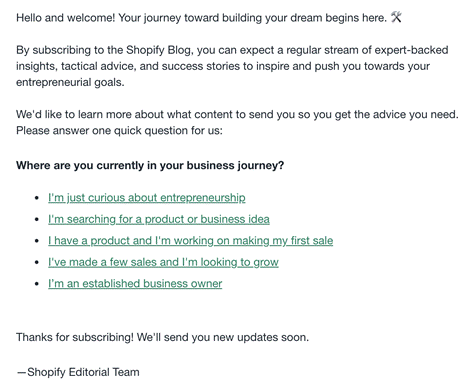 Emails that subscribers receive in the future will depend on their selection.
Note that you're not strictly limited to promoting blog posts or videos. Consider adding other content formats to your emails to give your subscribers more ways to hear from you.
For example, creating a podcast is another way to vary the content you offer. This can be promoted on your marketing emails by including links to any relevant podcast episodes.
3. Maintain a Consistent Voice with a Strong Brand Consistency
Achieving brand consistency is by no means easy, but it ensures your brand is recognizable across all marketing channels.
Imagine if you visited a brand's blog and it was filled with witty language. Then you subscribe to their email list and receive content with a dry and "flat" tone. This might leave you with a negative impression.
Ensure your brand's voice is consistent across all platforms to build trust and resonate with your readers. All content that you publish should sound like it came from the same person, even if a whole team is producing it.
If your blog targets a mature audience, use business English in your emails to maintain a professional image. Likewise, if your blog has a more informal and conversational voice, then your emails should reflect that.
Implement branding guidelines to maintain a consistent voice across all channels. These are style guides that communicate the tone that everyone in the organization should adopt, whether they're working on a landing page or writing a Tweet.
4. Add Social Sharing Buttons to Encourage Distribution
One way to reach even more people is to make it easy for subscribers to share your content on social media. Add sharing buttons for social platforms like Facebook and Twitter to your emails.
If a subscriber likes your content, they can click the share button to share it with their followers, who may subscribe to your list and become dedicated fans.
theSkimm, a daily newsletter that publishes articles on current events, includes social share buttons under each story for readers to "Skimm" and share.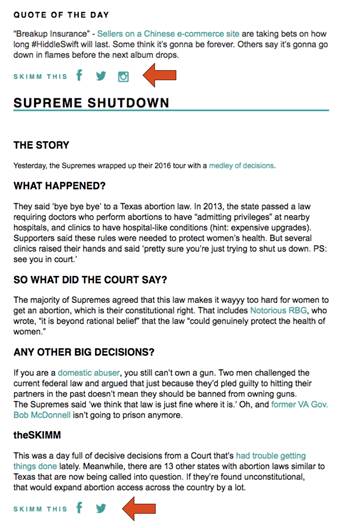 (The Skimm web site)
It's a seemingly small change, but it can help you increase your reach and add more subscribers to your list.
5. Optimize Your Emails For Mobile Devices
Mobile devices have become such an invaluable tool that you'd be hard-pressed to find someone withoutone. In fact, the number of mobile internet users (4.28 billion) accounts for over 90% of the global internet population.
Having mobile-friendly emails is a must-have. Most mobile users won't bother pinching and zooming on their devices just to read your content.
Follow these tips to ensure you've optimized your emails for mobile devices:
Use a responsive template for all emails
Use a single-column layout
Pay attention to font size
Optimize call-to-action (CTA) buttons for touch
Keep the subject line and the body short
Compress images and add ALT text
Finally, test your emails across different devices and email clients (e.g., Gmail, Outlook, etc.) to ensure they load properly before sending them out.
6. Encourage Email Subscriptions
So far, we've talked about different ways to promote your content with emails and engage your readers. But don't forget about your blog.
A blog is another marketing channel that you can use to reach your audience online and build your email list. Publishing quality content helps establish your blog as a go-to resource for authoritative information and drives organic search traffic to your site.
Again, the key here is to provide value. Examples include creating in-depth guides, interviewing industry experts, and publishing original research.
Creating this kind of content isn't easy. But it'll give your visitors a compelling reason to subscribe to your list and receive emails in the future.
Be sure to add a signup form to your blog posts to make it easy for visitors to subscribe. Here's an example of a form that Social Media Examiner adds to the bottom of each post.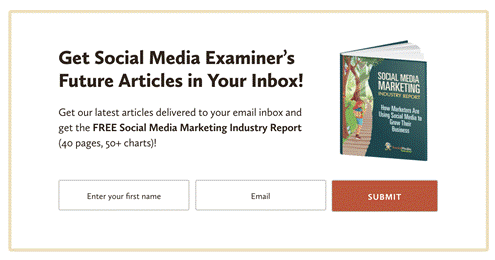 The company even adds an industry report as a bonus to entice visitors to subscribe.
7. A/B Test Your Emails
A/B testing involves showing two variations of a page and comparing the results after each gets a certain amount of traffic. It's not just limited to landing pages, as you can also conduct A/B tests on your emails.
For example, you can run A/B tests for different subject lines and compare open rates to determine what message resonates with your audience.
Likewise, you can experiment with different offers. If one offer performs well, then you can promote a similar offer on other channels like Facebook or Twitter.
Let your A/B tests run for a sufficient amount of time so you can attribute the results to a specific change. Be sure to test only one element at a time to avoid complicating your results.
Conclusion
Email marketing is a powerful and effective channel. And when you integrate your email campaigns with your content marketing strategy, it takes your efforts to the next level.
Follow the tips outlined here to bring these channels together. These include segmenting your list, maintaining a consistent voice, adding social buttons, and encouraging opt-ins.
Get these right, and you'll drive an even higher ROI with your email campaigns and content marketing strategy.
Do you have any email or content marketing strategies you've liked to share? Let us know in the comments below!
Author: Lily A Greene
Lily A Greene is a freelance writer with prior experience in corporate branding. She now specializes in content marketing and social media strategy.