Inbox Tabs Coming to Outlook Webmail
by Andrew Lutts, Founder & CEO
If imitation is the sincerest form of flattery, then Gmail should be flattered. Outlook will soon be copying and implementing their inbox tabbed email reading capability.

Gmail first introduced tabs in their email reader a lifetime ago (seven years ago) in 2013. Now Outlook is finally catching up.
Are tabs in email a good thing? In a recent poll among users in our office the verdict was mixed. Some people don't want anyone messing with their email messages, and filtering them automatically for them. Hands off my email!
Other employees like the convenience and intelligence around the tabbed email capability. After all, do I really want to see and read all those social media updates sent by email? No.

A Google Consumer Survey fielded by Return Path found that two-thirds of Gmail users currently use tabs to sort their email. We would expect that same kind of adoption in Outlook (assuming the Outlook user has an option to turn tabs on or off).
In Gmail, 68.4% of all incoming messages are classified and put into their Promotions Tab. 22.1% of all incoming messages are classified as Updates, such as a purchase confirmation. (Source: Marketing Charts)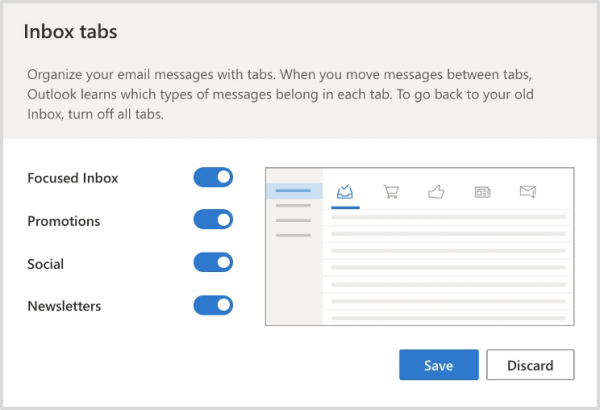 Of course there's lots of competition for the inbox. We all do so much with email every day. It's a critically important business and personal tool.
What's really happening here is that Microsoft and Google are applying powerful, intelligent deployments of artificial intelligence (AI) and machine learning (ML) to help us all be more efficient and productive with our time spent online. For the most part, this is a very good thing, and a huge productivity booster.
Read more:
https://iterable.com/blog/microsoft-inbox-tabs-for-outlook-hotmail-coming-soon/