Straight Talk on Email Marketing to Baby Boomers, Gen X, Millennials, and Gen Z
A Candid Review of the Defining Characteristics of 4 Different Generations and How to Reach Them Effectively Through Email
by Alyssa Rice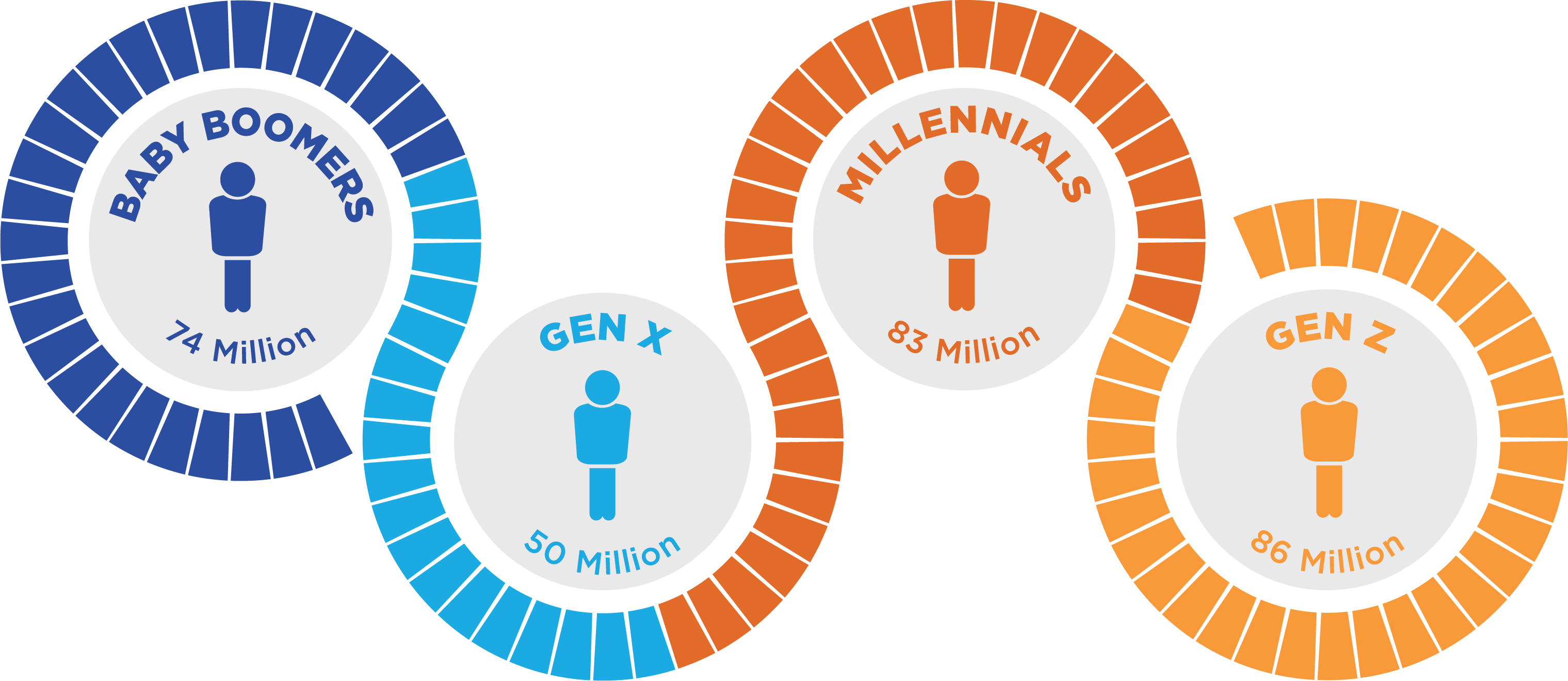 Introduction
If you base your email marketing on audience by age, it is important to realize what generation they're in. The current generations that are frequently marketed to:
Baby Boomers (born between 1946 and 1964)
Generation X (born between 1965 and 1980)
Millennials (born between 1981 and 1996)
Generation Z (born 1997 to the present)
There are key qualities between these three generations, therefore, segmentation is crucial. A Baby Boomer who is 70 years-old will definitely not react the same way to an email sent to a 16 year-old Gen Z'er. For the best results from your email marketing, segment and focus your message differently to all of these generations.
The good news is, all of these generations use email heavily. The question is, how do you email market to each one?
Baby Boomers
Some people may say that email marketing to Baby Boomers would be a waste of time since they don't have emails or are too old to use technology. Wrong! Do not overlook Baby Boomers! Boomers make up the largest part of the American population at 40% with 74.9 billion people. And as a group they have the most assets. According to Forbes, 95% of Baby Boomers use email. So, let those statistics dispel those aforementioned rumors.
There are a few strategies to implement for email marketing to Baby Boomers:
Make your message as easy to read as possible. This is just like for any other generation, but most important for this one. A large, easy to read font is necessary. Also, do not use light fonts on a dark background. It makes your eyes work harder and open wider, which causes the text to blur, also known as the halation effect. Enlarge photos and call-to-actions, too.
Do not try to be trendy. TikTok trends, Kardashian quotes, or any pop culture references probably won't resonate with Boomers. They will have no idea what you are talking about! Instead, focus on industry, breaking, or economic news. If they feel talked down to or trends are overly explained, they will be turned off.
Use longer emails. Boomers are more likely than other generation to read books and newspapers. They have the time. Create long email copy and write like a magazine article.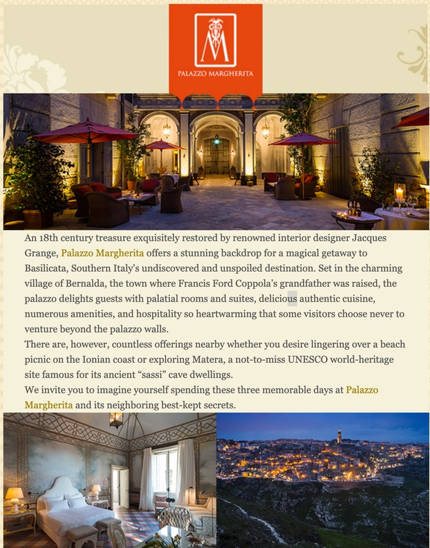 This email from the Palazzo Margherita is perfect. They use long paragraphs that are easy to read with pictures.
Some brands that have done well for targeting Baby Boomers are AARP, L'Oreal, and Fidelity Investments.
Good topics, subjects, and products to market to Baby Boomers include: retirement topics, second homes, more conservative investments, health, nutritional supplements, volunteering, spirituality, books and reading, vacations and cruising, spending time abroad, continuing education, retirement communities, gardening, caring for aging parents, being a grandparent, and more.
Generation X
Gen X is a smaller generation, but actually take home 31% of the total income in the U.S. They are not going through major life changes and are typically stagnant with established careers and older children.
Gen X does not use technology like other groups. They have lived through the rapid changes of technology, from big chunky computers to small tablets, being most comfortable with using their desktop computer. They are used to traditional old-school email marketing.
When email marketing to Generation X:
Explain and ensure convenience. Generation X is busy and they do not have time to read through all your emails. Preach convenience, whether that be same-day delivery, or auto-purchasing subscriptions. Anything that makes their life easier is better.
Device-friendly emails. Generation X is one to read an email on their phone about a purchase and then go to their computer to make that purchase. They use all different types of technological devices for different reasons, so make sure it is all optimized for the best display and interactivity.
Some brands that have done well for targeting Generation X are Politico, Amazon, and Ford.
Popular topics for this group are college planning for their children, vacation and destination planning, professional development, television programming, nostalgic subjects like public figures, old commercials, music, conservative ideals, and home maintenance.
Millennials
Millennials are a tech savvy generation that have lived with technology for most of their lives. Millennials are currently aged 24-39 years old, which means they are building their careers, starting families, buying houses, and going through major life events.
Email and cell phones have been a constant in most of their life. Therefore, you need to know what Millennials do once they read your email on their phone. Here are some tips to help you with that:
Offer deals and discounts. Money is a huge concern for Millennials. With student loan debt and low salaries, and providing for their family, they have become financially savvy and tend to not spend more on miscellaneous purchases. A rewards program, percentage off, or a buy-one get-one-free deal is a great call to action for this group.
Use images and videos. According to MarketingTech, Millennials are three to four times more likely to like media content such as images and videos in their emails when compared to those over 55 years old. This is one of the best ways to capture their attention.
Be authentic. Millennials have been known to see through the "fluff." Be real, transparent, and build trust. Do not be "salesy" or lie.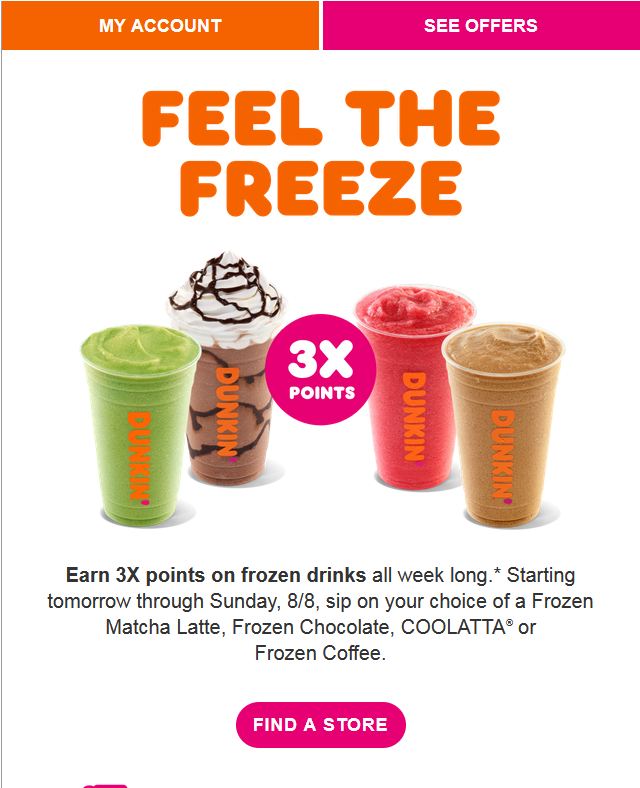 In this email, Dunkin' Donuts shares that if you buy any of these drinks, you will get extra points for their rewards program. This is perfect for Millennials who love free stuff.
Other brands that have targeted this generation well are Starbucks, Netflix, Taco Bell, and Apple.
When sending email marketing to Millennials, consider these more popular topics: social issues, activism, environmental topics, video gaming, comic books, cooking for fun, fantasy sports, saving and investing, researching and finding social proof, shopping and convenience, experiences, and more.
Generation Z
Generation Z is the youngest of the groups. This generation, commonly known as digital natives, grew up with computers, cell phones, and every other piece of technology you can think of. 45% of Gen Z say that they're online almost constantly. Believe it! Take it from me, a Gen Z'er. I am constantly consuming technology, mostly on my cell phone.
One key aspect of this generation is that they are probably not subscribed to many email newsletters, so they are not overloaded with hundreds of subscription emails a day.
There are a few email tactics to use for this generation.
Ensure mobile optimization. Gen Z reads email on their phone. Make sure that you have a low character count, use clean fonts, add small file size images, and keep the email short and sweet. To save time, use an email service provider that has mobile-friendly email templates.
Incorporate images or moving graphics. Gen Z's favorite social media apps are TikTok, YouTube, Instagram, and Snapchat. Coincidentally, these apps all involve videos and pictures. Since you cannot include videos in emails, you can add a picture of a video that you link to, incorporate GIFS, moving text or graphics, and images that will resonate with Gen Z'ers.
Connect your brand with their identity. There are so many characteristics that separate Gen Z from every other generation. See the list of these characteristics below. Ask yourself how you can use their generational differences to your advantage. According to Pew Research Center, some of Gen Z's defining characteristics are that they are:
a. more racially and ethnically diverse
b. progressive and pro-government
c. going to be the best-educated generation yet
d. relying on technology heavily; and
e. having increasing comfort in using gender-neutral pronouns.
Brands that have done well targeting this age group well include Kylie Cosmetics, Chick-fil-a, and Spotify.
When emailing Gen Z, topics that have proven to be popular are progressive topics, social responsibility, pop culture, TikTok, mental health, the environment, fashion trends, music, new forms of technology, the gig economy, side hustles, professional sports, investment apps, and fitness.
Conclusion
As you can see, these generations need different messaging, email design, email features, and add-ons. If possible, we recommend that you segment your list by generation and use these tips.
We have seen great results with our clients who have used these strategies in the past. Whether you're emailing a Boomer or Gen Z'er, knowing your audience to reach their attention can really make all the difference.
Resources
For further reading about what makes us and our generations different, see:
Teens, Social Media, and Technology by Pew Research Center https://www.pewresearch.org/internet/2018/05/31/teens-social-media-technology-2018/
On the Cusp of Adulthood and Facing an Uncertain Future: Gen Z https://www.pewresearch.org/social-trends/2020/05/14/on-the-cusp-of-adulthood-and-facing-an-uncertain-future-what-we-know-about-gen-z-so-far-2/
Who is Gen Z? https://www.pewtrusts.org/en/trust/archive/spring-2019/who-is-generation-z