The Optimal Times to Send Email Marketing and Post on Social Media
The best times to send your email marketing and make posts on LinkedIn, Twitter, Facebook, and Instagram.
By Alyssa Rice
Introduction
As subjective as this topic may be, there is research to support the idea that certain times and days are best for deploying your messages to your audience. Engagement, conversion, and sales can increase based on the timing of your messages.
Best Time to Send Email Marketing
Everyone wants to send their email marketing at favorable times. One reason this is important is so more readers give their attention to your email. If you have someone's attention, they are more likely to read that email. Another reason to send at favorable times is so that the email stats increase, like open rates and click-through rates. Both of these reasons create snowball effects in which your website can receive more views, you receive more leads or subscribers, and your web site receives more traffic.
What is the best day of the week? Multiple sources say that Tuesday, Wednesday, and Thursday are the best days to send. This eliminates weekends where most people are not working or checking their email. Mondays are not the best day either because readers are still focused on the weekend. Tuesday through Thursday is when readers are most attentive.
In general, studies have shown that sending at 6:00 AM, 10:00 AM, 2:00 PM, and 8:00 PM will generate the best results.
Truthfully, deciding what time to send your email depends on who your audience is.
Here are some examples of different audiences and their email habits:
7:00 AM-10:00 AM: White collar workers. Ask anyone with an office job: they do not like email, but, if you are going to send to them, send in the morning. This is when they are most alert during their day. They are drinking their coffee, catching up on their email, and taking it easy before starting their stressful day.
8:00 PM-midnight: College students. If you are targeting college students, it is best to send them at night. This is when college students are paying attention. Emails sent from 8:00 PM to midnight have shown higher click and open rates for this demographic. We assume this is because students spend time on their phones and computers late at night, finishing their procrastinated assignments due at midnight.
5:00 AM-7:00 AM: Baby Boomers. Baby Boomers, who actually enjoy reading emails and think it is the most personalized form of marketing communication, read their emails right when they wake up. They equate it to reading the newspaper.
We suggest you test to your audience at different times to pinpoint exactly when they are opening, clicking, and converting.
Social Media: Does it matter?
Some people believe that it does not matter what time is best to post on social media. They believe that since you can view posts from days ago or hours ago at the same time, timing your posts does not matter. However, there are times and days when engagement is at its peak, and it differs for every medium.
Here's when and what time to post on LinkedIn, Instagram, Facebook, and Twitter to increase your reach and engagement.
Best Time to Post on LinkedIn
LinkedIn is a great place for B2Bs, B2Cs, and individuals to promote themselves. It can be a way for B2Bs to promote their services, individuals to flaunt their new job, or B2Cs to build their brand.
Most people use LinkedIn during 9-5 business hours. Consider that when scheduling your content.
According to LinkedIn, the first consideration you should make when deciding to post is time zone. If you have a global audience, think about what time is best for them. If you have an American east coast audience, post in that time zone.
Sprout Social created a graphic displaying LinkedIn's global post engagement.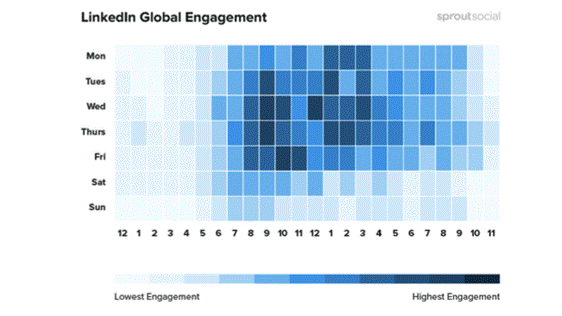 According to this graphic, the best days to post are Tuesday-Friday.
The best times to post are between 8:00 AM-3:00 PM.
Best time and date combinations to post on LinkedIn are:
Tuesday 9:00 AM
Tuesday 1:00 PM
Wednesday 9:00 AM
Wednesday 12:00 PM
Thursday 9:00 AM
Thursday 1:00 PM-2:00 PM
Friday 10:00 AM
Times to avoid:
Weekends, specifically Saturday and Sunday
7:00 PM-5:00 AM
Outside of business hours
Best Time to Post on Instagram
It has become clear that Instagram is a platform that is capable of generating high engagement. Instagram varies from seeing what your close friends are up to, to funny memes, or B2Bs and B2Cs trying to build their brand.
Since Instagram is less of a business medium and more of a personal medium, the dates and times for prime Instagram posting vary. Weekends are different from weekdays due to how casual the platform and audience is. If you are posting on weekdays, post between 6:00 AM and 9:00 AM, 12:00 PM-2:00 PM, and 5:00 PM-6:00 PM. If you are posting on weekends, post from 9:00 AM-2:00 PM.
Instagram shows insights on your account that tells you what the best days and times are to post. These insights are based on when your audience is active, your followers, and what you have posted so far.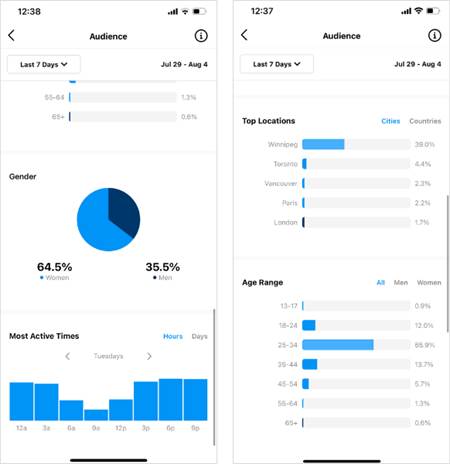 The worst times to post on Instagram are:
Weekend evenings from 8:00 PM on
The middle of the night
Before 8:00 AM
Best Time to Post on Facebook
Facebook is a great tool for any individual, business, or brand. Think about your audience and decide when they are likely to be on Facebook, scrolling through their feed.
Just like Instagram, Facebook shows you the best times and day to post based on your audience.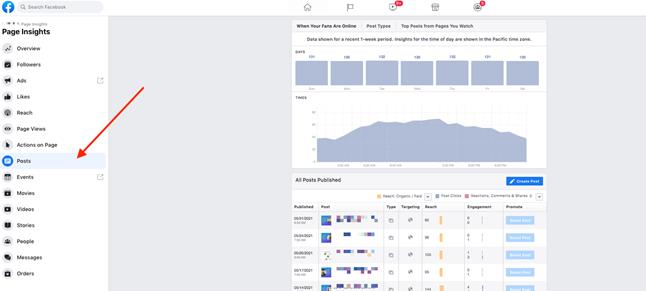 CoSchedule created an informative graphic with the best times and dates to post.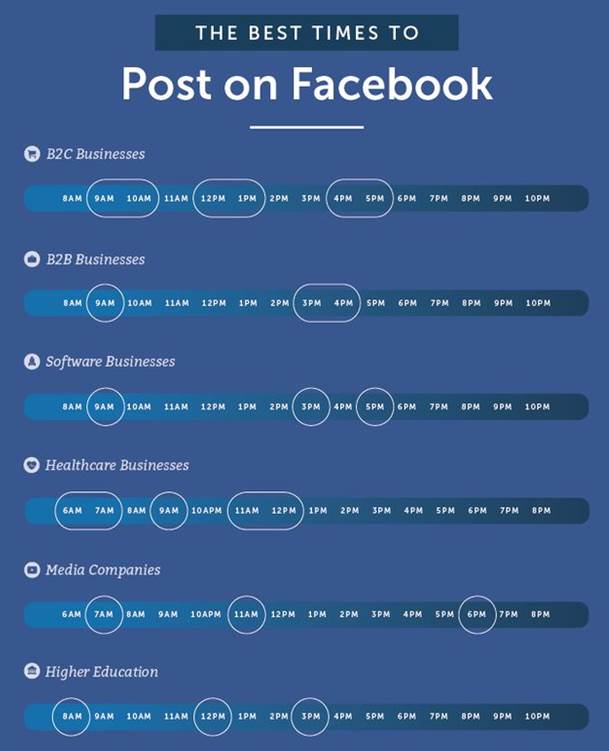 On average and in general, the best times to post are around 8:00 AM-10:00 AM, 12:00 PM, and 4:00 PM-5:00 PM.
Weekdays are the best days to post on Facebook. Like Instagram, the weekends do not have that much engagement.
Some date and time combinations with exceptional engagement and views include:
Best Time to Post on Twitter
Twitter is a casual medium for catching up on current topics and news, discussing your favorite tv shows, or complaining about a poor experience on an airline.
Like the rest of the aforementioned media, there is not necessarily a perfect time to post. That said, different sources have concluded that ideal times to post include:
Friday, 9:00 AM-10:00 AM
It is clear that weekends are not an optimal time to post. You should also avoid late at night.
Twitter also provides in-app analytics so you can analyze your readers' habits.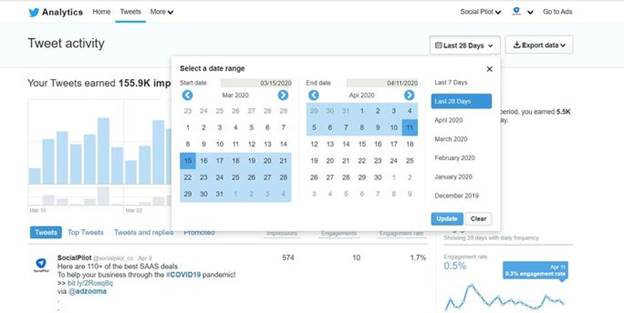 Conclusion
As you can see, there is not a perfect day or specific time to distribute your content. Important factors include the nature of your content, and the demographics of your target audience. Knowing this, you can effectively use these guidelines to get the maximum impact from your efforts whether it be from email marketing or social networking posts. Sending at the right time will lead to more leads, conversions, and sales.
Resources
Best Times to Post on LinkedIn https://www.linkedin.com/pulse/whats-best-time-post-linkedin-hint-monday-houston-golden/
Our Favorite Social Media Scheduling Tools:
Buffer https://buffer.com/
Sprout Social https://sproutsocial.com/features/social-media-publishing/
Falcon https://www.falcon.io/