Top 3 Newsletter Advertising Networks to Monetize Your Email Newsletter
Make More Money with Your Emails by Including Selected Advertisers
by Alyssa Rice
Advertising Networks Defined
What are advertising networks? They are companies that act as an intermediary between publishers and advertisers to create a meaningful and profitable advertising experience. They connect publishers that want to sell space in their newsletter with advertisers who want to pay for the space.
Depending on your business model as a publishers of an email newsletter, advertising revenue can be a major source of your income.
The Opportunity for Increased Revenues from Your Newsletter
Ads in emails are used by many publishers who want to monetize their newsletter. Email advertising revenue can be bread and butter for lots of companies. If you've worked hard to increase your subscriber list with thousands of subscribers, this is a big opportunity to at least consider. Further, if your newsletter subscribers are an audience demographic that an advertiser would want to target, even better opportunities are possible.
Although you may be reluctant to do so, you can make good money from your newsletter by allowing advertising in your email newsletters. In fact, it may create a whole new revenue stream for you, a stream that may pleasantly surprise you with results.
Also, don't forget that readers expect to see advertising. It's part of life. We get many quality newsletters ourselves that have ads in them, and we feel that the reader experience is not negatively impacted, especially if the advertisement is relevant.
Some Guidelines and Standards to Aspire To
There are some standards that should be met to maximize the earning potential. First, you should have a large enough email list. This should be over 2,500 subscribers, but having more than 10,000 will really help your monetizing potential. Second, ideally your open and click through rates should be average or above average. This is important, as it determines how many people click on the ads in your newsletter, and how much money you will ultimately make. See if your industry is listed below and if your newsletter compares to the industry standards.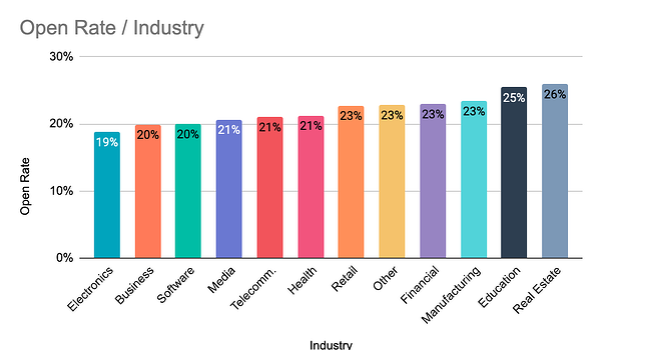 How to Get Advertisers for Your Email Newsletter
So, how can I advertise in my email newsletter? These three vendors below are viable and reputable newsletter advertising networks to consider when selling advertisement space in your newsletter.
1. Paved
Paved is a business that aims to simplify the process of finding and purchasing sponsored content in newsletters.
They carefully vet their vendors to ensure the authenticity of engagement rates and only accept reliable newsletters. Not just any newsletter can use Paved; everyone has to go through an application process. With their user friendly dashboard, advertisers can easily find quality publishers and publishers can quickly find valuable advertisers.
The process is free to use for publishers, only when you book a campaign or earn from the Ad Network do they take a commission.

2. LiveIntent
LiveIntent is another newsletter advertising network. They have 2000+ publishers and 290 million unique readers.
Actual LiveIntent users have said that the platform is easy to use and has helped them generate a large amount of revenue.
LiveIntent works with small and large companies, one being General Mills. They increased their email newsletter revenue by 26%. The LiveIntent team was able to work with the company and reformat their templates to increase premium bid rates and receive better engagement.
If your company wants a more personalized and hands-on company to work with, LiveIntent is your best bet.
3. BuySellAds
BuySellAds works with many different companies like Firefox, HGTV, and Roku. Their customers have seen an average of 15x increase in revenue, 38% increase in ad sales, and 45% lift in remnant earnings.
They connect email newsletters with top brands to make direct sales with their marketplace. You deal with the advertisers directly so you have a chance to see exactly what the ads look like.
As the publisher, it gives you financial control by allowing you to set the rates for your advertisement space. They also offer ad block recovery, where you can recapture your lost revenue due to ad blockers.
If you want more control over the ads being placed in your newsletter, BuySellAds is definitely the platform to use.
Resources
Paved: https://www.paved.com/
LiveIntent: https://www.liveintent.com/
BuySellAds: https://www.buysellads.com/
Net Atlantic: https://www.netatlantic.com/