Innovative Email Marketing Lead Generation Ideas and Best Relationship Practices for Insurance, Finance, and Investment Industries
By Alyssa Rice and Andrew Lutts
Insurance companies, banking organizations, credit card companies, insurance brokers, insurance agents, and financial service providers need to both attract a steady stream of new business and create and nurture meaningful long-term client relationships.
Email is a great way to accomplish this. Email can be personal and work to grow your relationship from a prospect to a lifelong client.
The benefits of email marketing for the financial and insurance industry are clear:
Low cost: Email service providers offer attractive pricing, making it one of the least expensive marketing channels.
Preferred method: Financial and investment customers are known to be information-hungry and often count on email as a mission-critical communications medium.
Metrics: Metrics like open rates, click-through rates, and cost per lead (CPL) measure response objectively. It is easy to tell what is working in your marketing campaigns by looking at your statistics.
Personal: Email can be personalized to each customer to create a better relationship.
Constant Communication: Clients appreciate it if you do not disappear after getting them to sign up. They want to know that you're making an effort to let them know the information they need and are available.
Active: Email is an active way to communicate. Although some people will call it "interruption marketing," email will often generate a response. Compare it to a static web site in which the user has to go there, log in, etc. Email is superior in that it provides you with the information proactively.
Ways to Generate New Leads and Customers with Email: Lead Generation
Companies can attract investors, clients and subscribers of all kinds with various techniques using a combination of email, web sites, and clever marketing. We've seen this used for investors from Schwab, Fidelity, Interactive Brokers, and Robinhood. It works with products like Bitcoin, ETFs, Stocks, IPOs, Commodities, Crypto, and more. But it can also work with other kinds of investments too, including insurance, second homes, overseas investments, and more. And these marketing strategies work day after day, year after year. Here are some of the best strategies to consider for your own lead generation campaigns.
Strategy #1: Mystery Investment: Webinars that announce and reveal a new stock, ETF, crypto, precious metal, or other hot tip. The presenter conducts a carefully-crafted informational piece around a reveal event, and gives you free online access / admission. The webinar explains why this investment is great, and why you should buy the continuing service and subscription.
Strategy #2: Free Introductory Period: Be a client and get the newsletter and recommendations free for three months. Get hooked. Then, just when things get interesting, your free trial ends. Of course these days proving a service such as information or investing strategy can be done with very little physical cost, so it can be easy for the publisher / promoter to turn on or off.
Strategy #3: Free Software Platform Access: Sign up with your name and email address, and get free access to the software platform. Access is free, but time constrained. After the initial period, access expires.
Strategy #4: Buy One Get One Free (BOGO): This is a popular promotion around the holidays with subscriptions. Subscribe one year for yourself, and gift a free subscription to your friend. Everyone wins with this kind of promotions, and it helps the publisher / seller by introducing new readers and subscribers at low cost.
Strategy #5: First Lesson Free: Companies who offer expert, professional training will often provide the first lesson or two on a complimentary basis, with the hopes of getting you committed. This is why quality content is so important. When the student likes what they see and they learn from it, they are much more likely to continue and pay for the course.
Strategy #6: Course is Free: Pay for Certification: Other online learning originations will gladly let you take the course for free, but to prove you successfully took it (such as for your employer), you must pay for the Certification of Completion. This is an effective strategy used by Coursera and EdX use this effective model.
Strategy #7: Paid Referrals: You can and should ask your current clients for a referral. If it makes sense to pay them, consider doing so. Many companies and organizations offer referral programs for just this kind of opportunity. Similarly, we've seen companies offer $50 gift cards to clients for positive reviews at places like TrustPilot, ReviewsIO, and other review sites.
Strategy #8: Partner with Complimentary Businesses: We've seen this work really well for a bank / mortgage company who was trying to generate new customers. They conducted a home-buying seminar and invited a real estate agent, home inspector, home appraiser, and a contractor / remodel company. All the presenting companies invited all their own prospects and customers, and it filled the room with hungry, qualified prospects. This strategy can work for all kinds of different businesses, but may require a bit of creative thought to think of the complimentary business partner opportunities.
Strategy #9: Solo Ad: So how do you market effectively when your email mailing list of prospects is not as large as you like? Find someone in a complimentary type of business with a large list of prospects, and take a solo ad in their newsletter, website, or other property asset to advertise your solution in. This kind of implicit endorsement works great! Find some resources here.
Strategy #10: Lead Generation Web Page: Your landing page must have a way to capture an email address, mobile number, or other identifiable way to follow up on a lead. Although annoying for the web site visitor, pop-up boxes are probably the most effective way to do this. In the popup box offer a free PDF report, cheat sheet, video instruction, audio file, coupon code, or similar reward for entering your email address or phone number.
Strategy #11: Free Partner Gift: This is a favorite strategy. A local yoga studio offered a free yoga class in their email marketing to their list of yogis, with the free class being sponsored by a nearby skin care salon. A win-win all around. The yoga studio gets additional traffic to the studio. The skin care salon gets exposure to all the yogis in the area on the yoga studio mailing list. And the yoga practitioners get a free class!
Strategy #12: Free In-Person or Virtual Events: A financial advisor invites prospects in for one-hour presentation on the Five Smartest Retirement Strategies. An insurance company hosts a one-hour presentation on Strategies for Buying Insurance for the Best Coverage. If the event is promoted well and is not just a sales pitch, the prospects will come. Have the event in-person if possible for a higher level of commitment and connection, or online for the widest possible reach of prospects.
Strategy #13: Free Consultation: Offer a free 15, 30 or 60 minute consultation or assessment as a loss-leader to get a steady stream of prospects. This can be a great way to get a new relationship started.
After the lead capture process is completed and you've converted the lead to a client, try some of these strategies below to nurture your customers and develop good-will.
Six Tips for Relationship Building and Client Development Using Email Marketing
1. Use Personalization
Clients want to trust who they are working with. They want to know that they are a priority for you, even if they aren't.
Using the data available, try to create more of a relationship by using their name, location, and preferences.
When using email marketing, use their first name in the subject line or salutation. You could also send emails to them about the specific services they use. For example, if your insurance agency offers multiple types of insurance like auto, home, and life, personalize it to just the insurance they own.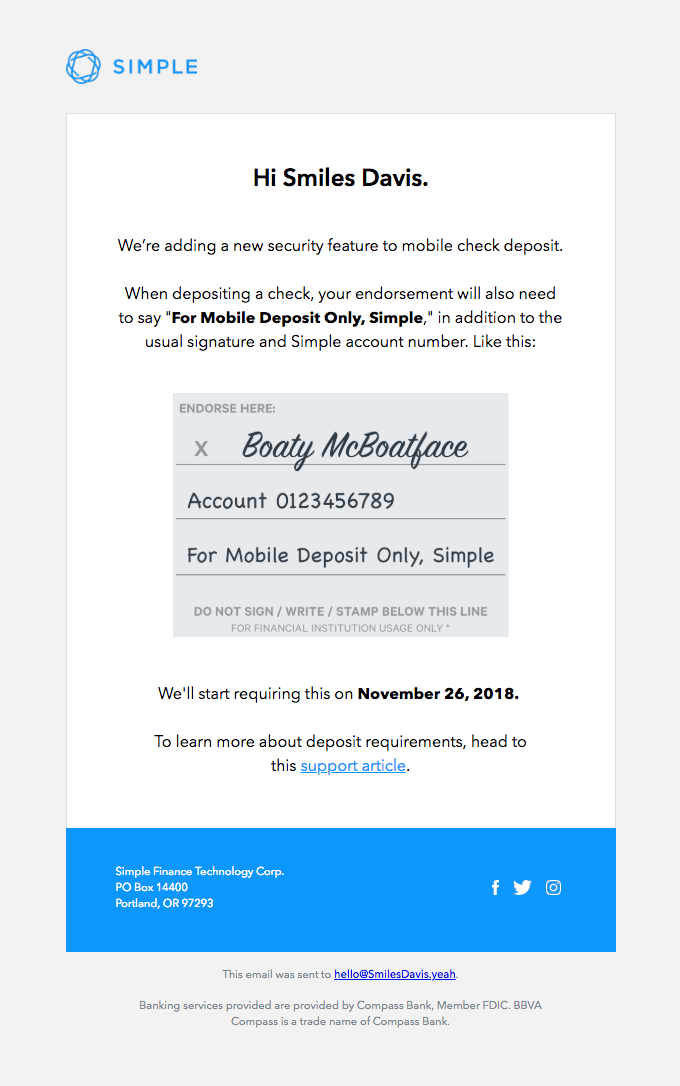 2. Segment into Buyer Journey Step
New customers want to see different content than your long-time 10 year or 25 year customers.
You need to segment your message into different steps in their journey. Here are some examples of different emails to send during different stages of the buyer journey:
Awareness: Create an eye-catching subscribe form on your website to get prospects on your list.
Consideration: Send welcome emails. Begin with introductory information.
Acquisition: Start to inform customers about products and why it would benefit them.
Service: Provide updates on how your services have started to help the customer. Give coupons or explain how they can save money.
Loyalty: Ask for reviews and ratings. Show the customer their portfolio summary or how much money they've saved.
3. Provide Additional Value
Most financial newsletters are about financial industry news. The few top-performing newsletters include more than that. They include tips, insider information, insights, and value that means something to your readers.
Avoid blatantly trying to make a sale. People do not like being sold to. Develop your relationship and provide them value.
Whether that means educating to increase financial literacy, giving updates on their portfolio, or trying to save them money, something valuable needs to be offered to create a thriving relationship.
4. Create a Visually Impactful Email
Don't feel bad if the nature of your product or service is not inherently fascinating. You're not alone. Try to make up for it with a visually-appealing email newsletter.
Use your branded colors, videos, GIFs, graphics, and appealing call-to-action buttons.
Below, you can see Robinhood using branded colors and related fonts to promoting cryptocurrencies like Bitcoin.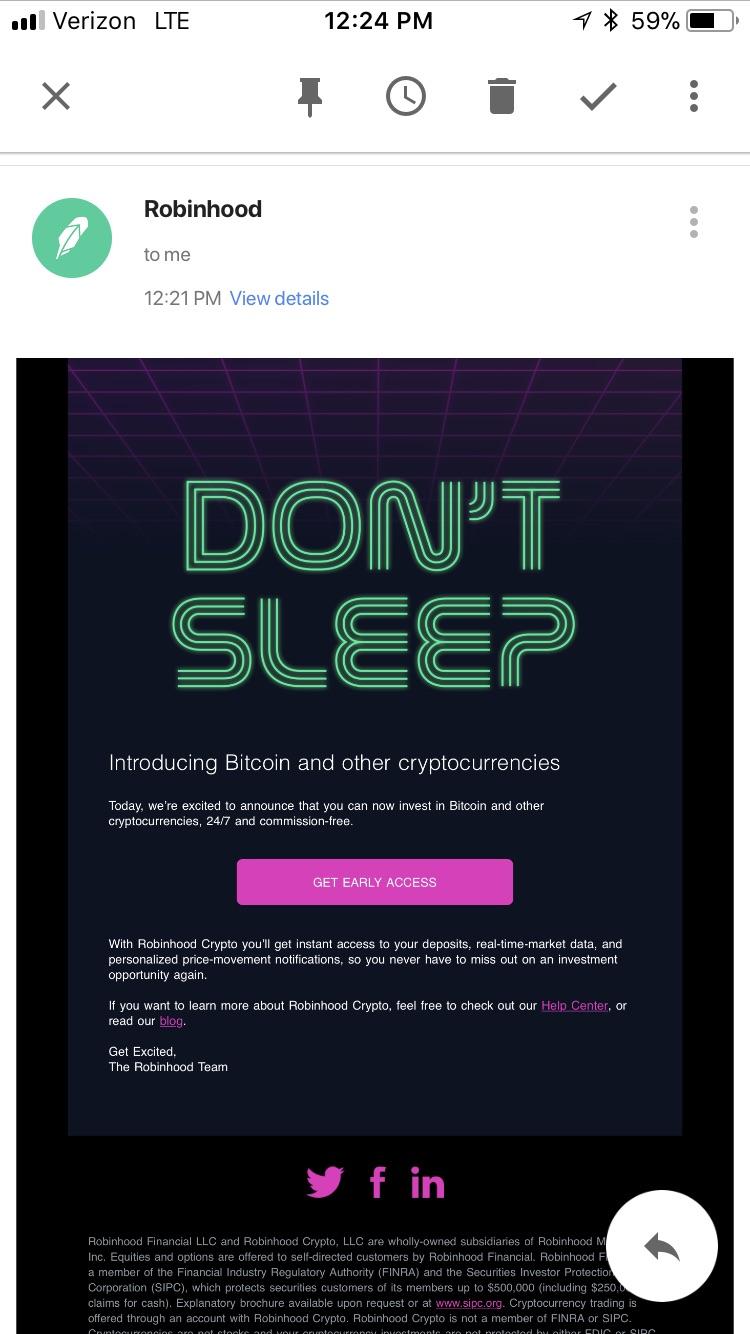 If you want to see examples of professionally-designed graphic emails, check out Really Good Emails.
5. Make it Easy to Access Services
Your clients want to have easy access to all of your services. They do not want to be frustrated searching on their portal for information or on the phone with customer service for hours.
There are a few times a year where your clients will need certain documents or updates on where to find information. You should send emails to them with links or downloadable links that contain financial statements, a new privacy policy, or annual tax documents.
Companies like PayPal do this when it's time for tax season.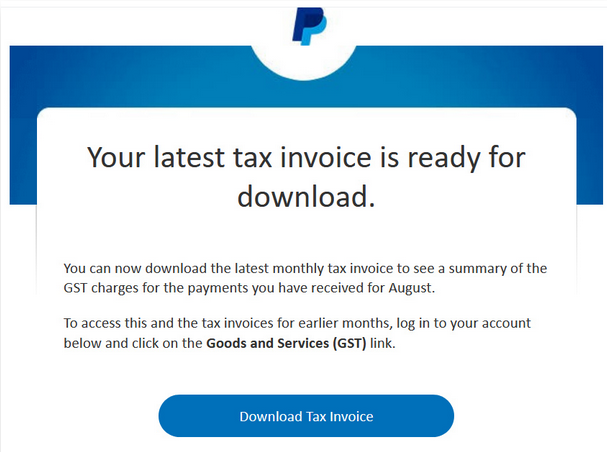 6. Be Date-Driven or Event-Driven
If you need a reason to email your clients and prospects and make a connection, sometimes the calendar or other periodic event can help.
Several years ago we bought a Timex watch online. Just a few months later, we got a clever date-driven email from Timex: "It's daylight savings time! Don't forget to adjust your watch ahead one hour! And while you're at it, check out our new line-up of Spring watches too!"
Can your business or organization make use of calendar or event driven opportunities?
Finally: Getting Your Email Opened

One thing to keep in mind is that your email won't work if recipients don't read it. And that often is driven by the subject line. There are many ways to make these intriguing but there are a few general rules you should keep in mind:
Get familiar with spam words and avoid them. (free, discount, etc.)
Make sure the subject line ties into the body copy. This is a must. You can get plenty of people to open emails with references to celebrities for instance but if the inside isn't related they'll click delete, and may unsubscribe. This is not only a best practice, but good common courtesy.
Keep your subject lines short.
Conclusion
As you can see, email is an important part of the marketing plan for the financial services, investment and insurance industries. You can use email and other online strategies for both lead generation and client communications. There are many ways to work and improve upon your company-client relationship using this inexpensive yet effective tool.
Resources
Lead Generation for Financial Industry https://www.cience.com/industries/financial-services
Insurance Agency Marketing Services https://www.iamsinc.com/
Lead Generation for Insurance Industry http://www.insuranceleads.com/
Example Emails from Really Good Emails https://reallygoodemails.com/
Agent Sourcing Directory http://www.agentsourcingdirectory.com
Get Started with Net Atlantic Email Marketing Today https://www.netatlantic.com/emailmarketing/requestdemo