The 5 Best Types of Email Content to Send for Non-Profit Organizations
Consider your audience, message and goals when advocating your mission
By Alyssa Rice
Introduction
LEmail marketing is an essential and cost-effective strategy for nonprofits. With goals like nurturing rapport, building consensus, increasing donations, and communicating the nonprofit's mission, email marketing can help achieve it all.
Find below various effective strategies for nonprofit email marketing.
What is Considered a Nonprofit?
A nonprofit (sometimes called a not-for-profit) is an organization that operates for a collective, public, or social benefit. The organization typically furthers a social cause or advocates for a certain point of view. Any revenue that exceeds expenses is not taken by private parties. Nonprofit organization examples are schools, political organizations, and churches.
Not all non-profits are charitable organizations, but many are. You can tell if an organization is charitable because they use a 501(c)(3) designation. A 501(c)(3) designation means that at least 80% of the operating funds used by the organization go directly to fund their programs.
Who Does A Non-Profit Send Email To?
Nonprofits have a few different audiences that they can target through email marketing:
Clients. These are the people who buy your products and services (if you sell these things). For example, if you sell third-world handmade goods, health information, or research reports, your clients are the people who purchase these from you.
Recipients. These are the people who receive your services. For example, if you are running a non-profit animal adoption agency, the recipients are the people and families who adopt pets. And the pets benefit too! It's important to communicate regularly with this audience, as they are your customers.
Volunteers. Many nonprofits have roles that they cannot fill due to their budget. They may only be able to employ 20 people when 30 people would be more efficient. This is where volunteers come in. They do work to help the organization, including anything from volunteering at events, helping the office staff, or telemarketing to find potential donors.
Donors. Private citizens and businesses play major roles in donations. One meaningful donation can keep a nonprofit running for years. In terms of email marketing, communicating with potential and existing donors and sharing your ongoing activities and initiatives is a critical part of the process. This way your donors know how their contributions are being deployed. The best marketers will segregate their messages to their donor lists based on the type of donor they are.
Corporate Sponsors. Corporate partnerships occur in some nonprofits. With this, corporations can help raise money for your cause while also building social responsibility for the corporation. They typically want to make an impact beyond just writing a check and grow community relations. For example, many banks are required by charter to donate a portion of their profits to non-profit organizations.
Five Types of Content to Send from a Non-Profit Organization
Content Type #1: Newsletter Based Content
One of the most common email marketing strategies for nonprofits is a newsletter. With your newsletter, include recent news and successes, scheduled upcoming events, activities that your organization is currently doing, and future long-term goals and milestones.
Some examples of topics to include in the newsletter are:
Schedule of upcoming events
Profile of someone receiving services
Progress of fundraising events and activities
A description of the delivery of services by staff and volunteers
Volunteer Opportunities
Content Type #2: A Story
Everyone loves stories. Make liberal use of stories to show how your organization is delivering services, and making a difference in people's lives.
For example, your organization is a food pantry. A single mother of three children has been using your food bank for years. The family has been almost homeless and relies on your food pantry to eat every week. After a few years, the single mother was able to get back on her feet and move into a home with her three children.
This is a great story to tell through email. Include photos, quotes and a description of the achievement. It is a feel-good success story on how your organization has delivered much-needed services to help someone out of a challenging situation.
Not unlike a case study that uses a C.S.R. formula (challenge, solution, results), your story can highlight the humanity of your organization's mission and vision and how you deliver on your promise.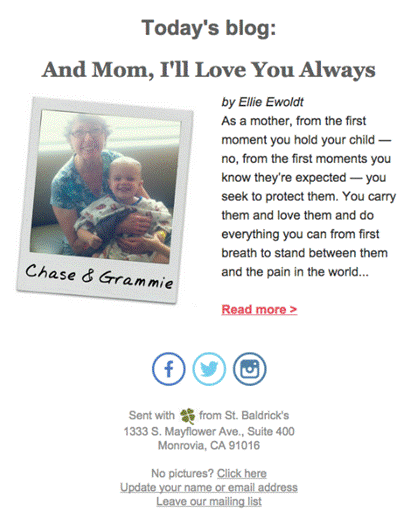 Content Type #3: Fundraising
Fundraising is one of the most important aspects of a nonprofit. In fact, sometimes it seems like certain non-profits solely send fundraising emails!
Fundraising email must be meaningful. You need to tell the reader why they should donate. This can be done by:
Including a video from your last event
Adding a testimonial from a person you have supported
Mentioning a statistic that consists of how you have helped the community
Referencing the urgency or sudden need for a donation
Expressing how thankful you are for their past donations
Content Type #4: Event Invitations
If you have an event coming up, create a compelling email invitation. Make sure to include the event name, date, time, location, what it supports, and any other important information (such as appropriate attire).
If you have conducted this event in the past, use photos and videos from the last event in your email, similar to the email below. It shows your readers what the event is like and what they should expect.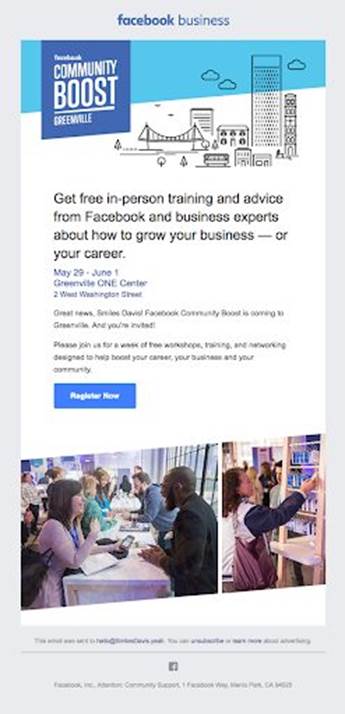 Content Type #5: Targeted Action
Contrary to a monthly or quarterly newsletter that may have several articles linked to within the email, a targeted action newsletter is simple and direct. Less is more. This is a focused appeal or directive. For example, a targeted action could include things like:
Our food bank is low on supplies, please donate by this Friday
Cool weather is coming: winter coats are needed now!
Our church needs help now to clean up after storm damage
Help us get out the vote for this month's elections
Public Park cleanup day is this coming Saturday, please join us
Join the webinar to discuss Climate Change issues and ideas
Autism Awareness event is scheduled for this Thursday at 7:00 PM
Americorps needs volunteers for May 1 project
For best results, keep it brief. Include a photo, a paragraph or two if needed, and one Call To Action (CTA), such as a button in the email that says "Sign Me Up!"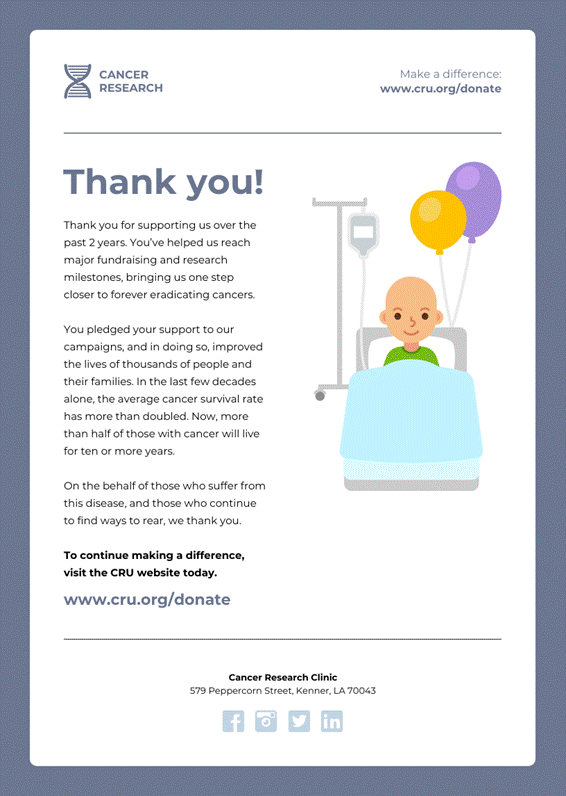 Nonprofit Email Marketing Best Practice Tips
Be sure to pay attention to these details as you plan your email campaigns:
Send from a trusted and recognizable email address. Send through an email address that is recognizable to your readers. Use a domain name, brand and logo that is trusted and well-known. You want it to be familiar, especially if you are directing your readers to a landing page. Phishing (falsifying the true sender of an email) is a big concern and readers are reluctant to click on any email message that is unusual-looking.
Use action words in your subject line. Doing so can fire your readers up and make them believe they can help make a difference. Words like "Donate", "Fight", "Save", "Give", and "Change" are emotional and can help you forward your mission.
Include photos. Include photos or infographics to help validate your mission. Include pictures of the group you are helping with the nonprofit, pictures from past events, or photos of volunteers. An email with solely text is not nearly as captivating as those with photos. Having your donors see exactly where their donations are going will help make them want to continue donating and it will build a better relationship with them.
Send at the best time and day. Think about your audiences and what time of day is best to send your emails. Corporate sponsors are best to contact during their 9-5 work day, preferably in the morning as they're getting to the office. Volunteers are best to send email to in the afternoon and later at night. If they are an avid volunteer, they have a lot of free time and consistently check their email looking for new opportunities.
Add a preheader. Using a preheader in your email will give your subscribers just a little more context about what your email is about. (A preheader is a one sentence description of the email contents that normally displays in the mail program of the reader). A good preheader can generate higher open and click through rates if you have compelling text that causes a reader to open and read your email.
Conclusion
Email can help build consensus, drive donations, increase supporters, and raise your organization's awareness. Use some of our suggested strategies in your emails to your subscribers. With trial and error, you will be able to see what kinds of emails do well for your nonprofit.
For your email marketing needs, check out Net Atlantic's email marketing. We have specialized in nonprofit email marketing for years. Join clients like the American Red Cross, Habitat for Humanity, and many others who have chosen Net Atlantic for their email communications.
Resources