Crafting Compelling Call to Action Phrases
by Terran Mazzaglia, Net Atlantic Marketing Team
In the fast-paced world of digital marketing, one thing remains constant: the critical role of Call to Action (CTA) phrases in achieving campaign objectives. But with so many options available, how can you select the right one?
An effective CTA must include a clear request alongside a compelling offer so you can capture the audience's attention and influence them to take action. To get you inspired, we've curated a comprehensive collection of 26 powerful call to action phrases, categorized into four distinct groups: Encouragement, Urgency, Exclusivity, and Benefits.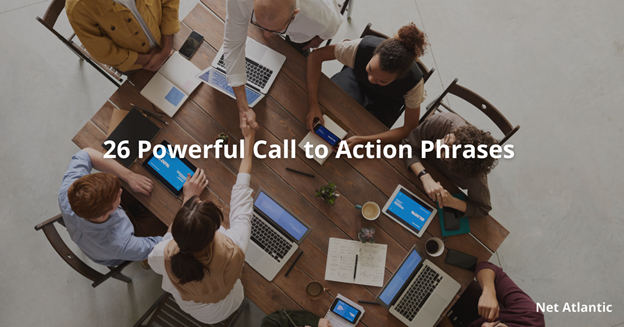 Encouragement
Claim Your Spot. Entice people to secure a seat for a limited-time event, course or program.
Contact Us Today. Encourage people to reach out to the company for further information the same day.
Don't Miss Your Chance. Tell people to act quickly before an opportunity is gone.
Enroll Today. Appropriate for expressing the value of a program or course.
Find Out How. Tempt people to learn more about a product, service, or program you briefly demonstrate.
Get Started. Push people to take the first step in a process or program.
Shop Now. Influence people to make a purchase on an e-commerce website.
Sign up Now. Encourage people to sign up for a program, course or newsletter.
Try it Risk-Free! Alleviate concerns or fears about trying a new product or service.
Upgrade Today. Inform clients of an upgrade to their current product or service to a more advanced version.
Watch Now. Straight forward, tell people to watch a video or webinar.
Urgency
Act Now. Encourage immediate action for an offer.
Act Fast. Convince people to act before the opportunity is gone.
Limited Time Offer. Establish a deadline for a time-sensitive promotion or deal.
Offer Expires. Indicate that a promotion or deal is ending soon.
Reserve your Spot. Insinuate that there is a cap to attending an event.
Exclusivity
Get your Free Guide/Quote. Encourage people to request access to a free guide or quote for further information.
Join the Hundreds/Thousands/Millions. Social proof, build trust by showing that others participate or purchase.
Start your Free Trial. Allow people to try a product or service for free before committing to a purchase.
Talk to an Expert. Provide a professional resource by encouraging people to speak with a resident professional.
Unlock Access. Adds a layer of intrigue by adding a restriction to the offer.
Benefits
Buy Now and Save. Use a discount or promotion to show extra value in a product or service.
Discover the Benefits. Entice people to learn about the various benefits of a product or service.
Invest in Yourself. Leverage the desire for knowledge, make it clear that the product or service will benefit them or their business.
See for Yourself. Encourage people to experience the benefits of a product or service firsthand.
Take the First Step. Inspire people to start a process or program that will ultimately lead to benefits.
Whether you are using pop-ups, slide-ins, video, image, social media, email, homepage, or any other type of CTA, be sure to align them with your marketing funnel and lead generation goals. By following marketing strategies like A/B testing, personalization, and using engaging messaging, you are sure to create an effective call to action that resonates with your audience.
Resources
Email Marketing Articles and Ideas:
https://www.netatlantic.com/resources/email-marketing-articles
35 Great Calls to Action used by Politics and Non-Profits in email marketing
https://www.netatlantic.com/resources/articles/35-great-calls-to-action-used-by-politics-and-nonprofits-with-email-marketing