StrongView® for SAP CRM Email Marketing
Simplify campaign execution while achieving superior relevance, deliverability and scale
By integrating StrongView Message Studio with SAP CRM, customers can quickly and easily leverage enterprise-grade email marketing capabilities, including sophisticated campaign management, high-volume delivery and advanced targeting. By using the solutions together, customers can use their SAP CRM data within Message Studio to identify their most influential and profitable customers and automate relevant marketing programs. Programs can be based on key events within the customer database, web analytics data, purchase activity, or other relevant data attributes.
StrongView for SAP CRM Key Benefits
Ease of integration with data sources and systems
Superior scalability to grow with your business
Optimized deliverability to maximize inbox placement
Proven Integration Simplifies Campaign Execution
SAP and StrongView have partnered to ensure a seamless integration between the two solutions that eliminates the need to manually upload CRM data and email tracking data. As illustrated in the diagram below, this integrated solution simplifies the creation and delivery of highly relevant messages by offering the following benefits:
Minimized data transfer time
Single source of program data for campaign analysis and further segmentation
Full-featured dynamic content
Real-time response tracking
Sophisticated email delivery and bounce management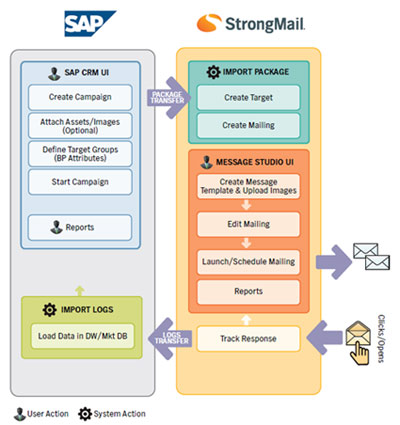 Click for Larger Image
A dedicated and scalable solution that can be accessed on-demand, StrongView Message Studio offers customers complete control over their campaigns. StrongView's integration with SAP CRM will provide marketers with real-time access to their data for creating timely, relevant and personalized campaigns that facilitate customer loyalty and engagement. StrongView's in-depth campaign reporting also provides marketers with access to critical success metrics for measuring ROI, including conversion rates and revenue generation.
If you're interested in learning more about the benefits of StrongView for SAP CRM Email Marketing integration, please contact us at (877) 263-8285.
WE'RE HERE FOR YOU
Book A Call With One of Our Experts
Fill out this form and one of our email specialists will contact you about how we can help you
achieve even greater engagement by switching to Net Atlantic for email marketing services.