StrongView® for Salesforce CRM Email Marketing
Improve your sales team's productivity and effectiveness with integrated email marketing functionality for CRM.
StrongView's Salesforce.com Connector allows StrongView Message Studio users to integrate with Salesforce.com's cloud-based CRM platform to easily leverage rich behavioral customer data and send highly targeted email marketing campaigns.
The two-way integration enables Message Studio to automatically write real-time mailing information and tracking results, including, opens, clicks and unsubscribes, back into Salesforce.com. The data flows in automatically and you can integrate the performance of your email marketing campaigns with your actual sales data, down to the individual lead or contact level.
Detailed mailing information and tracking results appear in Salesforce.com
Get detailed mailing information and tracking results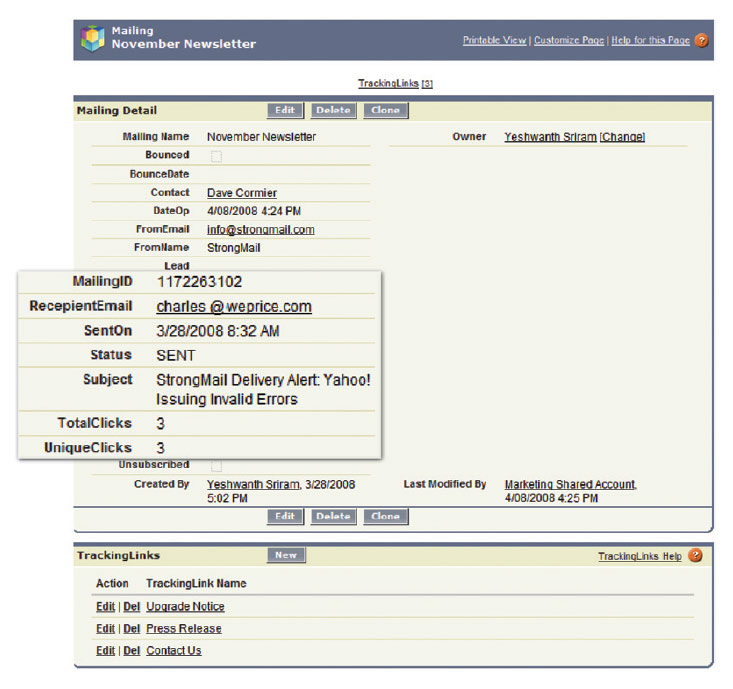 Click for Larger Image
Simplified Campaign Creation – CRM data is readily available in StrongView On-Demand and is easily leveraged to create targeted email marketing campaigns.
Two-way Reporting – Track campaign results using standard StrongView On-Demand reports while providing your Sales team with detailed mailings and results information within their accounts.
Real-time Tracking – Mailing information and tracking results are written back to the CRM at an individual Lead or Contact level in real-time.
Extensive Targeting Options – The following data objects in Salesforce.com can be used for targeting purposes directly in Message Studio: Account, Contact, Lead, Opportunity, Campaigns, Campaign Members.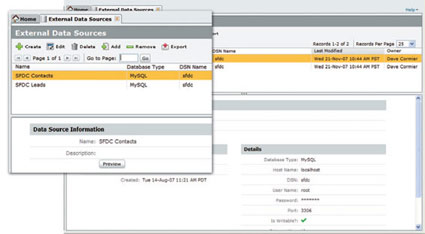 Click for Larger Image
Create targets dynamically using profile data from Salesforce.com
Requirements:
StrongView Message Studio module v4.1 or above
Salesforce Unlimited, Enterprise or Professional Edition
If you're interested in learning more about the benefits of StrongView for salesforce CRM Email Marketing integration, please contact us at (877) 263-8285.
WE'RE HERE FOR YOU
Book A Call With One of Our Experts
Fill out this form and one of our email specialists will contact you about how we can help you
achieve even greater engagement by switching to Net Atlantic for email marketing services.