StrongView® Email Delivery Server
Reliable, high performance email delivery for 24/7 multi-server environments.
StrongView Email Delivery Server is a highly scalable, RAID 1 fault-tolerant MTA appliance that offers superior performance and reliability in multi-server environments. Optimized for high volume email delivery and management, StrongView Email Delivery Server comes pre-configured with StrongView's industry leading MTA software in a SMTP-compliant "rack ready" appliance.
Extremely flexible, StrongView Email Delivery Server is fully upgradeable and works seamlessly with StrongView's complete email delivery platform, which includes its EAS integration technology, transactional email module, and the StrongView Message Studio campaign management solution. The ability to cluster with multiple StrongView Email Integration Servers enables a single view of all mailings and readily supports high availability requirements.
Featuring smart bounce management, simplified administration, real-time reporting, Live Updates, and 24/7 support, StrongView Email Delivery Server provides unsurpassed reliability and performance for email delivery.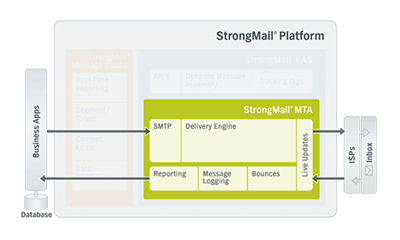 Click for Larger Image
Key Features & Benefits
High-performance, reliable delivery
"Fire and forget" interface
Multi-server management
Live Updates for ongoing compliance
Smart bounce management
100% visibility into delivery rates
Integrated authentication standards
Learn More About Email Delivery Server Features & Benefits
If you're interested in learning more about the benefits of StrongView's Email Delivery Server, please contact us at (877) 263-8285.
WE'RE HERE FOR YOU
Book A Call With One of Our Experts
Fill out this form and one of our email specialists will contact you about how we can help you
achieve even greater engagement by switching to Net Atlantic for email marketing services.