StrongView® Email Delivery Server
Features & Benefits
Integration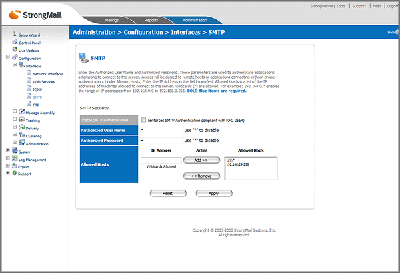 Click for Larger Image
StrongView Email Delivery Server can be integrated with any SMTP- and/or ESTMP-compliant application. Our "fire and forget" interface enables applications to send SMTP messages to a StrongView server at a high sustained rate. StrongView accomplishes this by buffering the incoming messages to disk, avoiding sending server busy messages back to the injecting application. Features include:
SMTP/ESTMP compliant
"Fire & Forget" interface
Delivery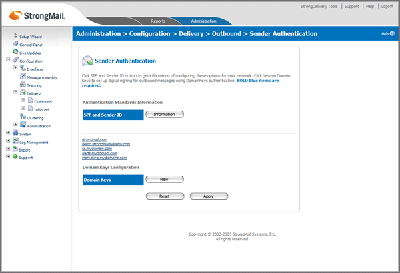 Click for Larger Image
Ensure delivery of your email by creating classes of service' with virtual routing. Enables you to separate your transactional email from marketing email that is more susceptible to being blocked by ISPs and corporate spam-filters. You can also take advantage of:
Domain/MX throttling
Accreditation and reputation support
Authentication standards such as Sender ID and Domain Keys
Live Updates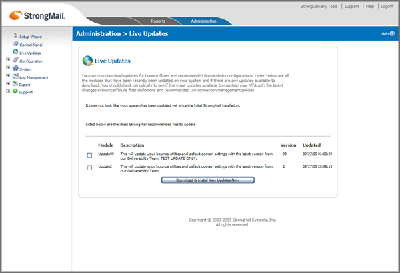 Click for Larger Image
Keep pace with ever-changing ISP and corporate anti-spam delivery parameters - such as bounce filter definitions and recommended domain/MX throttle configurations - with StrongView's automatic update functionality. This live update technology keeps you up-to-date with the latest email delivery best practices, standards and compliance methods; and protects your StrongView installation from emerging challenges.
Delivery Tracking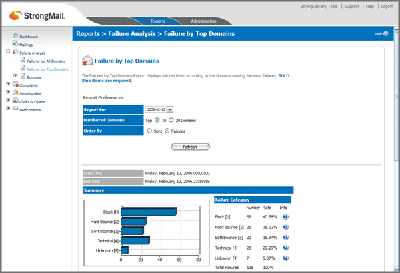 Click for Larger Image
Record all aspects of your email delivery - from initial delivery status to bounced messages - with these sophisticated tracking capabilities:
Smart bounce management
Outbound and inbound message tracking
Customer header tracking (for injecting pre-formatted messages into StrongView MTA via SMTP)
Reporting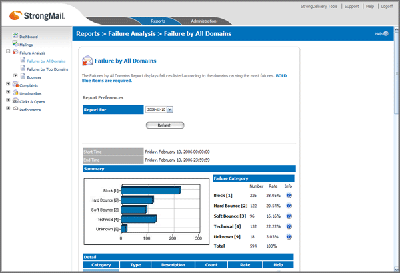 Click for Larger Image
Attain 100% visibility into all aspects of the delivery process with real-time reporting. Analyze results on a per-recipient, per-mailing, domain, and system basis. You can also get performance and failure reports by domain, and keep your databases clean and updated with StrongView's smart bounce management capabilities.
Administration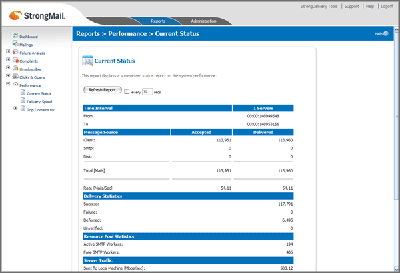 Click for Larger Image
Monitor server and network performance in real-time and quickly diagnose issues using StrongView's wide array of system management tools. Enjoy streamlined administration with:
Web Browser-based interface for configuration, reporting and management
Comprehensive Command Line
Interface (CLI)
Real-Time XML administration/
monitoring port
SNMP interface for easy status monitoring
Multi-Server Management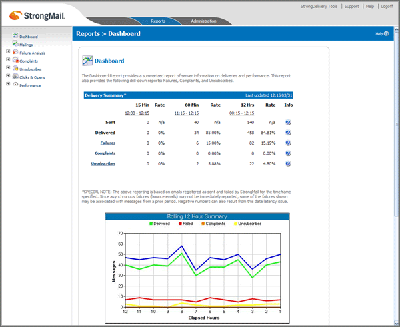 Click for Larger Image
Achieve optimal sending performance by leveraging StrongView's intelligent multi-server management capabilities, including:
Dedicated routing by destination domain
Dedicated routing for deferred delivery
Dedicated server(s) for inbound/outbound messages
If you're interested in learning more about the benefits of StrongView's Email Delivery Server, please contact us at (877) 263-8285.
WE'RE HERE FOR YOU
Book A Call With One of Our Experts
Fill out this form and one of our email specialists will contact you about how we can help you
achieve even greater engagement by switching to Net Atlantic for email marketing services.