StrongView® Lifecycle Marketing
Design and automate powerful event-triggered programs with drag-and-drop simplicity.
Smart email marketers know that delivering a relevant message or offer at exactly the right time will significantly boost engagement and conversions. In fact, Gartner reports that marketers can expect a 600% lift in performance over outbound campaigns by leveraging event-triggered tactics.
Fully integrated with StrongView's Message Studio, Lifecycle Marketing enables marketers to design and automate sophisticated, event-triggered email marketing campaigns with drag-and-drop simplicity. The most comprehensive and user-friendly lifecycle marketing solution in the industry today, StrongView Lifecycle Marketing allows you to easily design and automate personalized multi-stage, business-rule-driven dialogs, such as those associated with welcome, cart-abandonment, lead nurturing and winback programs.
Consumers are getting overwhelmed and fatigued by "batch and blast" email marketing campaigns. To counter this trend, StrongView Lifecycle Marketing provides marketers with the tools and strategic guidance necessary to build more effective automated programs that connect with consumers at every stage of the customer lifecycle.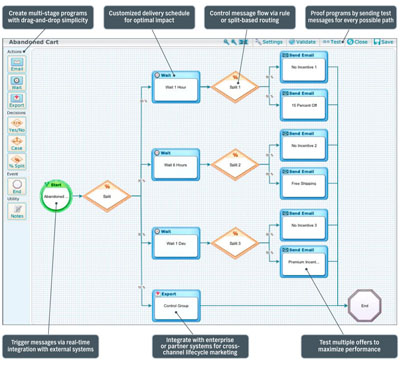 Key Benefits
Automate the delivery of highly targeted messages at critical times in the customer lifecycle to drive more effective marketing programs.
Easily design the ideal multi-stage message flow for a variety of key programs with a visual, drag-and-drop UI.
Leverage multiple customer data sources, ranging from enterprise databases and web analytics data feeds to behavioral tracking data, to achieve high levels of targeting, timing and personalization of lifecycle messages.
Easily validate programs by sending proof messages for every possible path in the message flow.
Drive increasing levels of ROI and revenue growth with minimal ongoing effort by progressively implementing new programs that leverage key customer lifecycle events.
Visually design A/B testing strategies to optimize individual messages or entire message flows within a program.
Features
Visual Designer: Author and test personalized multi-stage, business-rule-driven message flows with drag-and-drop simplicity.
Automated Real-Time or Batch Delivery: Message delivery can be triggered via real-time APIs or via recurring, scheduled batch targeting of customer segments.
Program Flow Testing: Easily test each possible message flow in a program.
Sample Templates: Take advantage of best practice templates for common scenarios, including welcome, cart-abandonment, lead nurturing and win-back programs.
Message Flow Control: Easily control customer experience via random split-based or rule-based routing of specific messages.
Reporting: Track performance trends across all messages within a program via a dedicated lifecycle marketing program report.
Management Interface: Easily launch, pause, and resume live programs via an easy-to-use program management interface.
Partner System Integration: Construct scheduled exports of customers that reach various stages of a program to closely integrate with external partner systems that may be critical to a cross-channel program
An add-on module to Message Studio, StrongView Lifecycle Marketing is the most comprehensive and user-friendly lifecycle email marketing solution in the industry today.
For more information about StrongView Lifecycle Marketing, contact a Net Atlantic Account Executive at (877) 263-8285.
WE'RE HERE FOR YOU
Book A Call With One of Our Experts
Fill out this form and one of our email specialists will contact you about how we can help you
achieve even greater engagement by switching to Net Atlantic for email marketing services.