Transactional Email Platform
The StrongView Transactional Email Platform transforms your generic, plain-text transactional email into highly branded and personalized messages capable of driving incremental revenue through relevant cross- and up-sell offers. Extremely reliable and flexible, our transactional email system extends the business logic of your existing e-commerce system to dynamically create customized messages that properly reflect your company's identity and relationship with the customer.
StrongView's proven transactional capabilities work in conjunction with its powerful integration and MTA software to offer dynamic message assembly, delivery, reporting and tracking. As a comprehensive solution that easily integrates with existing systems, the StrongView Transactional Email Platform enables you to quickly leverage one of your most effective customer communication channels.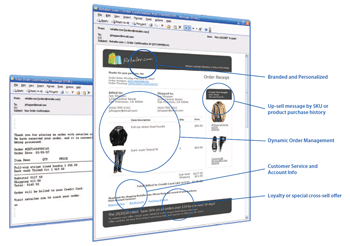 Click for Larger Image
Transactional emails are used by companies in numerous market segments to contact subscribers after recent events, such as online or bricks-and-mortar purchases, concerts, surveys, bill payments, video views, PDF downloads, and many other types of interactions that can trigger an email. The StrongView Transactional Email Platform tracks campaign feedback and offers reports on transactional campaign effectiveness.
Key Features & Benefits
Dynamic message assembly
Integrated deliverability reporting
Granular response tracking
Smart bounce management
Differentiated sending
SMS text notifications and alerts
Learn More About Transactional Email Platform Features & Benefits
Patented Technology
StrongView's patented AMP Technology™ (Asynchronous Memory-based Processing) uses advanced asynchronous memory-based queuing for increased throughput, intelligent delivery and real-time optimization and reporting. Plus, StrongView's asynchronous, component-based architecture can be deployed across separate physical servers for high scalability, redundancy, application flexibility and security-policy compliance.
For additional information about the StrongView Transactional Email Platform, call (877) 263-8285.
WE'RE HERE FOR YOU
Book A Call With One of Our Experts
Fill out this form and one of our email specialists will contact you about how we can help you
achieve even greater engagement by switching to Net Atlantic for email marketing services.